Posted on
Thu, Mar 7, 2013 : 9:35 a.m.
La'Ron Williams to address race and growing up in 'Elm Park, 1955'
By Ann Dwyer
Storyteller extraordinaire La'Ron Williams will tell the tale of his experience growing up in south Flint during a time of social upheaval in Elm Park, 1955.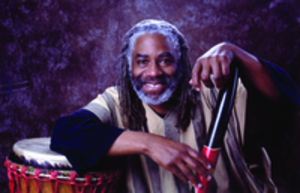 "Listeners of every color and background are drawn into his story precisely because it is suffused with a child's sincerity and genuine bafflement that the reality he lived didn't match the stories he was taught about his country - or himself - on TV, at school, and in the society at large," according to a news release.
The event is part of the Understanding Race Project and tells the true tale of how race affected a young Williams and the people in the working-class part of town where he grew up. The event is intended for a more adult audience.
Williams is an award-winning storyteller who tours extensively, giving performances and teaching workshops.
Tuesday, March 12. 7 p.m. Tickets are $15 for adults and $12 for students; advance tickets available at www.ticketweb.com. At the Michigan Theater, 603 E. Liberty St., Ann Arbor. 734-668-8397.