Posted on
Fri, Apr 9, 2010 : 11:48 p.m.
Performance Network goes (really) green with "Little Shop of Horrors"
By Jenn McKee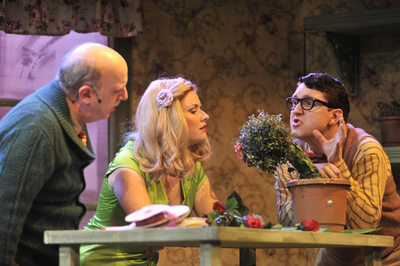 photo by Peter Smith
There's only one stage musical that would make someone at an opening night reception think twice about sitting next to a potted plant.
Yes, the darkly campy "Little Shop of Horrors" - with book and lyrics by Howard Ashman, and music by Alan Menken (based on Roger Corman's 1960 B-movie of the same name) - has taken over the Performance Network Theatre.
The show tells the story of a nebbishy floral assistant named Seymour (Jason Richards) who, after an eclipse, discovers an exotic new plant. Seymour puts it on display at the rundown Skid Row flower store (owned by Mr. Mushnik, B.J. Love) where he works with his secret crush, Audrey (Courtney Myers), where the plant draws both attention and business. This provides Seymour with great opportunities, but there's one problem: the plant — called Audrey II, played by Naz Edwards — requires, and quite vocally demands, human blood for its sustenance.
The primary thing that distinguishes the Network's production of "Shop" is its choice to have the actor playing Audrey II fully visible on stage. (Usually, a large plant puppet is used while the actor either provides Audrey II's voice off-stage, or works from the interior of the puppet.) Edwards, decked out in green makeup, flowing green sleeves, and a large plant headpiece (designed by Monika Essen), soulfully croons while her arms surround, and ultimately suck in, her victims.
Audrey II is thus less alien and otherworldly, making PNT's production a bit darker than usual — a tonal shift that I had mixed feelings about on opening night. A fake-looking Audrey II puppet has provided previous "Shop" productions I've seen with a sense of cartoonish, comic-book-world remove, as well as some added levity; and because the show's story traverses some bleak territory, the puppet, for me, has always helped to balance "Shop"'s emotional ledger.
Plus, despite Edwards' fantastic vocals, and Essen's creative, detailed and innovative designs for the plant, I couldn't get past the idea that I was watching a person, rather than losing myself in the stage illusion.
Nonetheless, there are many terrific things to recommend the show. First and foremost, you have Richards, who seems to have been born to play the role of Seymour. With confident, affecting vocals, Richards projects a vulnerable sweetness that makes you like Seymour even as he slips further and further into a moral morass.
Similarly, Myers delivers some of the production's loveliest moments - her opening night performance of "Somewhere That's Green" was a moving, memorable highlight — while also providing Audrey with refreshing complexity and depth (too often, the character comes off as merely an airhead). Edwards, meanwhile, plays Audrey II with an infectious sense of relish; and Aaron T. Moore is awfully impressive as a one-man supporting cast, playing a drunk, an evil dentist, and an old lady, among other roles.
Director Carla Milarch helms the two hour show with a sure hand, making the most of its comic potential while also letting its heartfelt moments shine through. Phil Simmons' doo-wop choreography is appealingly fun, paired with R. MacKenzie Lewis' artful music direction.
Essen's set design, with walls that are raised and lowered from around the flower shop, captures the show's grimy, dingy Skid Row setting (right down to the store's old, patterned wallpaper), as does Justin Lang's atmospheric lighting design. And while the show's doo-wop trio of Chiffon (Sharon L. Brooks), Crystal (Sharriese Hamilton) and Ronnette (Diviin Huff) seemed a little tentative in their first number on opening night, they gained confidence, worked well as a unit, and produced solid harmonies throughout the show.
In the end, PNT's unique presentation of Audrey II will likely be the litmus test, and a topic of post-show conversation, for many patrons. Yet despite my own qualms about the staging choice, I still found a lot to appreciate and enjoy in this "Shop."
Jenn McKee is the entertainment digital journalist for AnnArbor.com. Reach her at jennmckee@annarbor.com or 734-623-2546, and follow her on Twitter @jennmckee.