Posted on
Fri, May 14, 2010 : 5:46 a.m.
Happy hour makes Live at PJ's a Friday evening hot spot for the slightly older crowd
By Roger LeLievre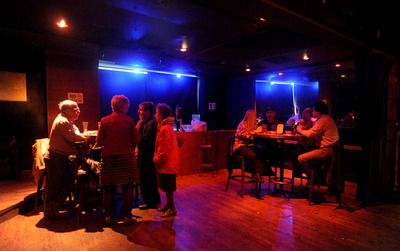 Angela Cesere | AnnArbor.com
Happy hours in Ann Arbor have gotten a little happier. Live at PJ's, at 102 South First Street, has added a 6:30-9 p.m. happy hour on Friday evenings, aimed at an older crowd and featuring hot local bands such as Drivin' Sideways and FUBAR.
"We're just starting to promote it pretty heavily," said manager Matt Nalepka. "We're trying to cater to an older crowd ... (There's) no cover, drink specials, simple bar food, dancing. … (And) we're going to have a lot more live bands."
Live at PJ's has had plenty of names over the years — restaurants such as This Zorba is Greek and D'Amatos, for example, as well as a dance club called the Rubaiyat, where Madonna danced more than 30 years ago.
It's the latter incarnation Live at PJ's most currently resembles. Right inside the front door is an airy foyer with windows and tables overlooking South First Street. Head in a little deeper and there's another roomy seating area near the bar. Keep going and you'll run into the dance floor with the band set up along the back wall and tables all around.
A late-night DJ lineup, a jazz big band gig Sunday afternoon inherited last year from the Firefly Club, and the Friday happy hour means the dance floor is once again filled with booty-shakers.
On a recent Friday, the joint was jumping, with local country-rock band Drivin' Sideways providing the musical excitement. "It's perfect — a great venue," said customer Paul Barden. "We can identify at least 30 people who are regulars. … We just come and spend as much money as we can to try and keep this place going."
Barden was sitting with Marv and Millie Oates, a couple in their 80s and veterans of nearly 30 years of happy hours at places past and present, such as Mr. Flood's Party and the Blind Pig.
"It's the best thing around right now," Marv Oates said of PJ's.
Sue Moore, who scored 1 of the coveted window tables, said she likes the party at PJ's because she can feel comfortable there.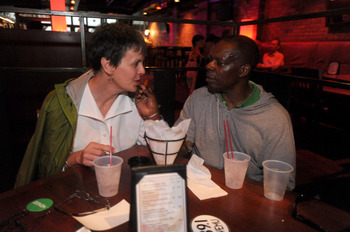 "I like it because it's a place I can come — I'm in my late 50s — and see people my age and dance. They play music that I like. Everybody is around 40-50. … (And) the band plays at the perfect time — I can have a couple of drinks and still be able to go to dinner, or get home for bed."
She said it's about the only happy hour with live music in town since the Blind Pig and The Heidelberg stopped offering them.
"It's very comfortable. I feel free to just dance all by myself," Moore, there with her friend Monica Canham, added.
"You see the same people every week. … I like it better than The Heidelberg; it's more open, there are more tables and the sound's better," Canham observed. "I like coming because I am 1 of the youngest ones here."
Ann Arborite David Briegel put it more succinctly.
"It's nice to have a place where there's not 40 22-year-olds puking," he said, adding that that he hopes the crowd supports the weekly event. "(They have) good bands … each band has a different following, we need to get those people coming each week. They've got to go somewhere for happy hour, who wouldn't they come and support live music? … I hope they (PJ's) don't give up on it."
Roger LeLievre covers music for AnnArbor.com.