Posted on
Wed, Mar 7, 2012 : 10:11 a.m.
Local musician Matt Jones explores time of transition on new album
By Kevin Ransom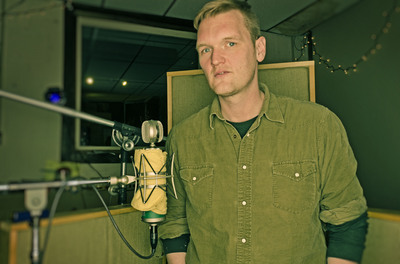 Photo by Doug Coombe
When
Matt Jones
—the local singer-songwriter-bandleader—went into the studio to cut his new record, he knew he wanted the overall sound to reflect the theme he was exploring in the songs' lyrics.
"It's a stressful-sounding record," says Jones of his new, seven-song effort, "Half Poison, Half Pure," which was released March 1, as a download-only album, available at www.mattjones.bandcamp.com.
"There's a lot of tension in it. You can hear that in the vocals. And that was intentional. We used an effects box that is actually called Vocal Stressor, in order to get a distorted vocal sound.
"I wanted the sound of the record to express the state of mind I was in at the time," says Jones, a multi-instrumentalist who is proficient on guitar, drums, piano, organ and even tuba.
"I felt like, in my personal life, I was stuck between two worlds. I remember thinking, 'I know how to do what I used to do, but I want to be done with that,'" says Jones, who lives in Ypsilanti. "I think the theme of the record is not wanting to move backward—but also, at the same time, being afraid of moving forward. That's where the title of the album comes from. It's about actually feeling half-poisoned and half pure—not knowing what direction to go in."
When Jones refers do "what he used to do," he's talking about drinking. "For about a year there, I got drunk every night," says Jones, openly and frankly. "And then last July, I got a DUI when I ran my car into a post. Obviously, I wasn't making good decisions.
"So, I quit drinking," says Jones emphatically. That was more than four months ago, and Jones says he feels much better now for having made that choice: "I'm making better decisions now."
But, given the state of mind he was in, and the subjects he was exploring, he wanted the record to have a different sound than his previous album, "The Black Path," which was primarily an acoustic-based, folk-rock endeavor.
"And, on my previous records, I'd always played everything myself (he released two EPs prior to the full-length "The Black Path"), because I was apprehensive about giving responsibility to others," says Jones, 34.
But for the "Half Poison" sessions, "I brought in other people"—Greg McIntosh (of Great Lakes Myth Society) on lead guitar, Chad Pratt on drums, Colette Alexander on cello, Misty Lyn Bergeron on vocals and Serge Van der Voo on bass. And everyone on backing vocals. Jones played guitar, keyboards and some drums.
Jones also plays drums in Bergeron's band, Misty Lyn and the Big Beautiful, so he couldn't completely give up the drummer's stool during the "Half Poison" sessions. "At one point, I took the drumsticks away from Chad—I still wanted that control. So, the making of the record was also a lesson in diplomacy."
On the title track, both Pratt and Jones play drums. Given the theme of being stuck between two worlds, he decided to go for a shift in tone between the verses and the chorus. During the verses, Jones is playing, "in a smooth, silky way," he describes. But during the chorus, Pratt kicks in, pounding the skins in more aggressive, harder-rocking fashion. "I like the way it shifts like that, that it's jarring," says Jones. "I wanted it to be disorienting."
In the end, the final product was "a lot more electric, and in some cases a lot more poppy, dare I say, than what I'd done in the past."
Another striking aspect of the record is Alexander's ambitious, assertive, sometimes dissonant cello playing. "She's definitely not your typical, full-note cellist," agrees Jones. "She's actually more like the 'lead player'—she really shreds, and the cello is really in your face. After shows, people sometimes come up and say, 'That was amazing show, but that cellist—SHE was the show."
PREVIEW
Matt Jones and The Reconstruction
Who: Talented local musician and songwriter. The current incarnation of The Reconstruction is Jones on guitar and vocals, Colette Alexander on cello and vocals and Misty Lyn Bergeron on vocals.
What: Jones is a versatile multi-instrumentalist who writes pointed and sometimes dark songs. His previous recordings have been more in the acoustic-folk-rock vein, but his new disc, "Half Poison, Half Pure," is more electrified and more rocking. His band has a slot opening the show for local favorites The Ragbirds.
Where: Where: The Ark, 316 S. Main St.
When: 8 p.m. Friday, March 23.
How much: $20. Tickets available from The Ark box office (with no service charge); Michigan Union Ticket Office, 530 S. State St.; Herb David Guitar Studio, 302 E. Liberty St.; or online from MUTO.
In fact, Jones has a live show coming up: He's opening for the Ragbirds at The Ark later this month, accompanied by his band, The Reconstruction—which presently consists of him on guitar and vocals, Bergeron on vocals, and Alexander on cello and vocals. The Reconstruction was once a larger ensemble—at one point, in 2010, it even included horns—but "I decided to pare it back," he says.
The show won't be a CD release party, though. "I don't really like the idea of those any more," he says. "I sometimes feel like they're a way to get your friends to come to a gig and spend money on your new album. But none of my friends have any money, either."
Speaking of money, Jones decided to take an unconventional route with this album. He's letting people "pay whatever they want for it—or pay nothing at all." It's being released only as a download for now, although he hopes to release it on vinyl, "maybe in the late spring, after I come up with the cash for a pressing.
"Right now, with the record business like it is, no one is making money from selling CDs," says Jones. "And I have a day job (he paints houses)—so, frankly, I need the listeners more than I need the money. I want to get my music out there, and if charging nothing, or letting people pay what they want, results in more people hearing it, that's fine with me."
Concurrent with the release of "Half Poison," Jones will also release a downloadable DVD of a live performance that was recorded on Feb. 1 at Backseat Productions studio in Ann Arbor. For that performance, it was also just Jones, Alexander and Bergeron, for the most part, although local singer-songwriter Chris Bathgate joined them for a few songs. (Jones also frequently plays drums in Bathgate's band.)
Jones invited about 40 people—mostly friends, but also some local music journalists—to the performance, and it was an interactive show, in which people in the audience posed questions to Jones "about the songs, or maybe about guitar technique. And, I also asked them questions about themselves.
"I was looking to do a video that where everyone was more involved, where it was more of a back-and-forth. I didn't want it to be just about me."
Kevin Ransom is a free-lance writer who covers music for AnnArbor.com. He can be reached at KevinRansom10@aol.com.