Posted on
Sun, Dec 19, 2010 : 6:01 a.m.
Matthew Altruda's new radio show 'Tree Town Sound' tunes in Michigan-made music
By Roger LeLievre
Anyone who's been around the local music scene probably knows Matthew Altruda. Besides being a promoter, a band manager and a booking agent, he recently added another entry to his jobs list: radio host.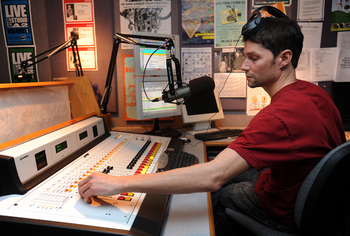 Melanie Maxwell | AnnArbor.com
Altruda's new program, "Tree Town Sound," runs Sundays from 6-7 p.m. on Ann Arbor radio station WQKL (107.1-FM). It replaces another local music show, "Homegrown."
"'Tree Town Sound' is the sound of the music in Michigan, the voices of the amazing musicians and my opinion on just about everything," said Altruda, who manages local band The Macpodz and who has booked stages for the Art Fairs and Sonic Lunch.
Part of the concept is in-studio guests. Chris Bathgate is slated to show up tonight to talk about his upcoming performance at Mittenfest in Ypsilanti. The show on Dec. 26 won't have a musical guest, but Altruda's 8-year-old son Carter will join his dad to talk about music. On Jan. 2, Lightning Love guests, followed by Red Sea Pedestrians on Jan. 9, The Ragbirds on Jan. 16, and My Dear Disco on Jan. 23.
Altruda, who is originally from New England, moved to Ann Arbor with his family in 1993. While attending Baldwin-Wallace College in Cleveland he hosted a radio show. "I'm moving up," he quipped.
Each program will have a featured artist, but will include songs from other Michigan performers as well. As a rule, the artists will not play live, Altruda said.
"When a musician or a band has to come in and play, they come in with a completely different mind set. I don't want the stresses of setting up their equipment, (and wondering) 'what am I going to play on the radio' … I want to catch them out of their band mode, get them to open up," he said.
The show will be broadcast live. "I can't do it prerecorded; that seems fake to me," he said.
Altruda brings plenty of experience to his new gig.
"(Fellow 107.1 host Martin Bandyke) calls me an Ann Arbor music impresario — that just cracks me up. I've been a booking agent, promoter, manager, festival buyer, retailer, street teamer and, most importantly, a fan. I have always felt that I was on the musicians' side of the business, fighting against the bureaucracies of the evil music business world. I'm not a musician, I don't play any instruments, but I've always considered myself on the musician's side. I've always carried myself that way."
According to Altruda, 107.1's management approached him about doing the show after he booked the music for Taste of Ann Arbor and the Sonic Lunch series and directly following his participation in a charity roast for Bandyke.
He said he wants "Tree Town Sound" to be a community-focused program, so the show will only feature artists or bands from Michigan or bands who have members from Michigan.
"I'll play a band that from Chicago if all of them are from Ann Arbor. But I am really sticking to my guns (that) this will be a Michigan radio show. … I want it to be very engaging. I want to say funny things that only people in Southeastern Michigan will get. I want it to be tied into many things so it's a big inside joke, which I think Ann Arbor will love."
Bands that would like to be considered for "Tree Town Sound" can drop off a CD at Café Ambrosia, 326 Maynard St., or visit the show's Web site and follow the instructions there. Besides the Michigan requirement, there's one more caveat: Quality counts.
"I want to focus on musicians that are working hard and trying to do it, playing out, recording great music, (trying to) give people a break. At the same time though I am not looking for 'Tree Town Sound' to be a community radio service … I don't just want to play a band because they're re from Ann Arbor if they are not good."
He said he hopes "Tree Town Sound" will become a show that music fans make plans to catch each week.
"I feel like there's a ton of people who would embrace the local music scene so much more if given the destination and the opportunity for it to be showcased. In turn what I am going to give them is great music and the opportunity to go see it live."
Roger LeLievre is a freelance writer who covers music for AnnArbor.com