Posted on
Sat, Nov 5, 2011 : 6:43 a.m.
The Meat Puppets are back, and they're coming to the Blind Pig
By Kevin Ransom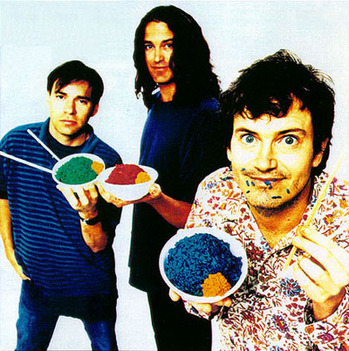 Here's one of those "Where did the years go?" moments for fans of 1980s-era alternative rock.
Curt Kirkwood, singer / guitarist / songwriter for The Meat Puppets—the influential psychedelic cowpunk band that started out in the early '80s—has a son who is now 28 years old.
Not only that, but the son, Elmo, is a proficient guitarist who will join the band on its fall tour that comes to the Blind Pig on Wednesday—which will turn the band's signature, lean, onstage trio sound into that of a four-piece.
And, when this interview with Curt Kirkwood took place, on Oct. 21, Elmo hadn't yet even rehearsed with the band.
So, Kirkwood isn't concerned about a new, under-rehearsed second guitarist getting onstage with them —and the dangers of the two stepping on each other?
"Nah, he can play circles around me," says Kirkwood. "He's a much more meticulous player than I am. I'll just tell him, 'Make it beautiful, man,' and I'm confident that he will."
Adding a second guitarist will make it easier to approximate the layered, textured guitar sounds from the studio versions of the band's songs—because Kirkwood likes to multi-track guitar parts in the studio.
PREVIEW
The Meat Puppets
Who: Influential alternative band that dates back to the early 1980s.
What: An eclectic mix of cowpunk, psychedelia, hard rock, acoustic country, blues-rock and more.
Where: Blind Pig, 208 S. First St.
When: Wednesday, doors at 9 p.m. 18 and over.
How much: $13/$15. More info: 734-996-8555 / www.blindpigmusic.com/index.html.
The Puppets' latest disc, "Lollipop," was released in April, and is the third Puppets album since the group began making records again in 2007 after a seven-year hiatus of sorts. During that period, Kirkwood made records with a couple of other short-lived bands, and also cut a solo album.
Also during that period, longtime Puppets bassist Cris Kirkwood, Curt's brother, pled guilty to assault with a deadly weapon after an argument with a security guard at a post office, during a time when he was still struggling with substance-abuse problems. He served about a year in prison, where he kicked his addictions, cold turkey, said a band spokesman.
"Lollipop" features the in-studio return of drummer Sheldon Sahm, son of Doug Sahm, to the band. Sahm had played on the group's 2000 release, "Golden Lies," and rejoined the band in 2009 for its live shows, but this is the first album they've cut with him on the drummer's stool since his return.
Although the Puppets are known mostly as a psychedelic cowpunk act, they've veered in various different stylistic directions over the years—straight punk, hard rock, blues-rock, acoustic country, ska, and even some synth-rock.
Most of stylistic excursions are in evidence on "Lollipop," and while that was not a conscious decision, that's fine with Kirkwood.
"Yeah, we were always interested in different styles, even in the '80s, and it always did seem like every album was pretty different than the one before it," he says during a phone interview from Austin, where he now lives. "Even when we tried to make an album sound like the one before it, it still sounded really different. That's why, to my ear, our newer music, since '07, fits right in with our '80s and '90s records, because we still never repeat ourselves.
"What we do is pretty abstract and spontaneous, and I usually don't have much of an M.O. when we make a record."
No kiddin.' Before the sessions for "Lollipop," the band didn't even rehearse. And several of the songs were written, and the arrangements were constructed, during the sessions.
"I did actually make a demo tape, and I was thinking it would mostly be acoustic guitars, with bass and drums, but as we went on, I felt myself wanting to play more electric. And, I also had some songs that were only half-written, so that's actually kind of a fun way to do it—finish 'em in the studio, with input from the other guys.
"It's a nice way to get inside of the music without actually 'constructing' it, if that makes any sense. I do often like to just wing it. It's fun to put yourself on the spot like that, and say, 'Hey, try this part,' and work it out as you go along."
The range of styles heard on "Lollipop" bear out Kirkwood's observations: "Baby Don't" is a cowpunk romp, "Lantern" showcases some sweetly melodic acoustic-guitar work, "Incomplete" is trippy psychedelia, "Orange" is a mid-tempo rocker driven by a syncopated groove, and "Vile" is a flat-out rush of rock 'n' roll, complete with some heady wah-wah guitar trips.
Regarding The Meat Puppets' influence on the cowpunk movement: One critic wrote that, "on 'Meat Puppets II' (from '84), the band created a fusion of punk and country that sounded unlike anything else in the American underground."
But Kirkwood says that he doesn't feel particularly influential. "I think a lot of the punk guys who did cowpunk back in that era were influenced by the same people we were. They were like us—punk guys who also dug Hank Williams, the Byrds, Gram Parsons, George Jones - I loved those artists when I was a kid, and I think a lot of those other cowpunk bands did, too."
Kirkwood says he is much happier being in The Meat Puppets today than in the '90s, after the band built a bigger audience and was signed to a major label. "When you sign to a major, those contracts are pretty thick," jokes Kirkwood.
"So, it's pretty hard to have real creative control. Once there's a pile of money on the table, they have a big say-so, and they start telling you what songs to record, so you start making compromises, and you end up not trusting your instincts.
"And in the '80s, we'd always been a band that trusted our instincts. So it's cool to be able to do that again now, and make your own decisions about what songs to do and how they should sound. And if it doesn't work out the way you'd hoped, then you only have yourself to blame, which is a lot easier than being p-----d off at someone else."
Kevin Ransom, a free-lance writer who covers music for AnnArbor.com, can be reached at KevinRansom10@aol.com.