Posted on
Fri, Jan 13, 2012 : 2:16 p.m.
Meryl Streep shines in otherwise disappointing 'Iron Lady'
By AnnArbor.com Freelance Journalist
The Iron Lady
Opens today at Rave, Quality 16, Brighton
Review by Jeff Meyers of the Metro Times
Grade: C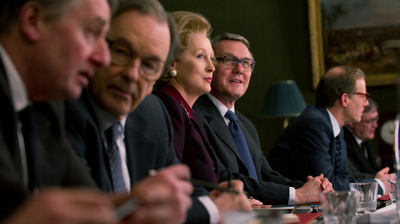 Though it probably feels like
Meryl Streep
has been winning Oscars every few years, the truth is she last took home the gold statue when Ronald Reagan was in office (it was for "Sophie's Choice"). Streep sure gets nominated a lot (16 times so far), but her talents and dizzying array of accents are accepted as such a given that her performances are frequently overshadowed by actresses-of-the-minute, stars who sparkle for a few films then quickly fade away (I'm looking at you, Helen Hunt, Hilary Swank and Halle Berry).
Like her turn as Julia Child in "Julie and Julia," Streep once again dramatically outclasses the film she's in. Unfortunately, while the quality of her performances may stay high, her choice of projects gets worse and worse. From director
Phyllida Lloyd
("Mamma Mia!"), "The Iron Lady" is as dull, clichéd and wrongheaded as a biopic can be, sporting a shallow and hamfisted script, and equally inept direction. But Streep sure makes a great Margaret Thatcher.
Read the full review here