Posted on
Tue, Dec 7, 2010 : 5:35 a.m.
Reggae pioneers Mighty Diamonds playing the Blind Pig
By Kevin Ransom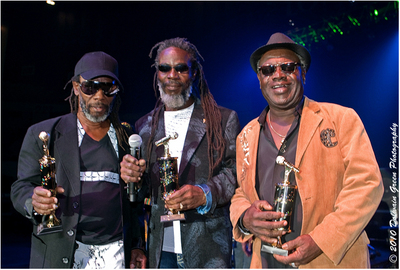 When most folks are asked to name reggae's pioneers, the first names that come up, of course, are Bob Marley, Peter Tosh and Bunny Wailer.
But an equally venerated reggae group is the Mighty Diamonds, who formed in 1969, and are still together — 41 years later — still recording and gigging. Their latest album, "Inna De Yard," was released in 2008, and they're currently on a tour that brings them to the Blind Pig on Friday, Dec. 10.
The Mighty Diamonds — Donald "Tabby" Shaw, Fitzroy "Bunny" Simpson and Lloyd "Judge" Ferguson — formed in 1969 in the Trenchtown area of Kingston, Jamaica — the same region that produced Marley, Tosh and Wailer. They hold the crown for being the long-running vocal trio in Jamaican musical history. And throughout that time, they've been luring audiences with their swooning harmonies, and raising global awareness on various issues with their socially conscious lyrics
The Mighty Diamonds were one of the most globally popular reggae outfits to come out of the '70s reggae-roots scene. Their music was more accessible and pop-friendly than that of many of the reggae-roots ensembles of the era, as they constructed soulful, shimmery vocal harmonies — inspired in part by Motown artists. Plus, the members had a knack for crafting beckoning, ear-pleasing melodies.
The Motown influence was not limited to their sweet-soul harmonies. Their stage show also paid homage in some ways to the intricate choreography of such iconic Motown acts as the Temptations and the Four Tops.
The Diamonds were, and remain, devout Rastafarians, but have always been able to strike a balance between their spiritual / political messages and their more romantic songs — which means they had, and still have, more crossover appeal than some of the reggae groups of the era, whose songs focused on social issues and human rights in Jamaica and Africa.
But, either way, the Diamonds have always seemed heavily emotionally invested in their songs.
"We have been spreading (our) message for a long time now," said Shaw in an interview that appears on Rebel Base, a website devoted to reggae music and culture. "And that is: "Love & unity!" If they don't want to listen, there's nothing we can do. A lot of people just think differently from the Rastafari way."
PREVIEW
The Mighty Diamonds
Who: Longest-running reggae-music trio in history, dating back to 1969. With Yellow Wall Dub Squad and London Homicide.
What: A mix of socially conscious songs and sweet-soul vocal harmonies, partly inspired by Motown.
Where: Blind Pig, 208 S. First St.
When: Friday, Dec. 10. Doors at 8 p.m. Ages 18 and over.
How much: $20. Details: 734-996-8555 or blindpigmusic.com.
As for their amazing longevity, Shaw said: "The secret is really nothing that big; it's just how we approach the whole music business. From the time we started we were never very interested in the whole financial part of the music — only our love for it was important. We just believed we would make it on an international level one day and it has paid off."
The Diamonds began recording in the early '70s in Jamaica, but didn't make much of a commercial impact at first. They finally broke through in 1973, when they notched their first Jamaican hit single, "Shame and Pride."
Other early, '70s-era signature Diamonds hits were "Country Living" and "Hey Girl." After a successful tour with Toots & the Maytals, which exposed them to a wider audience, they signed to Virgin Records in '75 and recorded four albums for the label.
Their global debut album, "Right Time," in 1976, is still regarded as one of the seminal recordings in the history of roots-reggae.
The disc contained some ambitious material, as it addressed various social and spiritual subjects, and yielded such socially-conscious hits as "I Need a Roof," "Have Mercy," and "Africa." The disc made them stars in Britain as well as in Jamaica. They cut several more consistently solid roots-reggae efforts in the '70s, like "Stand Up for Your Judgement" ('78), "Deeper Roots" ('79.) and "Tell Me What's Wrong" ('80). "Deeper Roots" received glowing reviews and remains one of their most-loved discs of the era.
In the early '80s, the Diamonds reconfigured some of their older rhythm tracks, turning them into new songs for their '81 disc, "Changes." One of those new tracks, "Pass the Kouchie," became a huge hit in Jamaica, and in 1982 it was covered by the Musical Youth, who changed the title to "Pass the Dutchie" and notched a big hit with it in the U.S. and British markets.
It was also in the '80s that the group began to synergize digititally produced ragga sounds into their music. They continued to release records consistently throughout the '80s and '90s and were equally prolific in the '00s, releasing four discs between '03 and '08.
Last November, at the fifth annual Reggae Culture Salute in New York City, the Diamonds were awarded a Congressional Proclamation and the first-ever Award for Excellence from TSO Productions and the Coalition to Preserve Reggae Music.
Kevin Ransom is a free-lance writer who covers music for AnnArbor.com. He can be reached at KevinRansom10@aol.com.