Posted on
Fri, Oct 12, 2012 : 8:04 p.m.
Milan's Stephanie Jass continues 'Jeopardy!' dominance: 5 in a row
By Bob Needham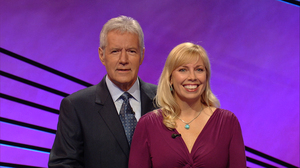 photo courtesy of Jeopardy Productions
Milan resident
Stephanie Jass
stayed the champion of
"Jeopardy!"
on Friday, winning her fifth straight match and setting her up to continue the run next week.
Jass has been dominant all week, and while Friday wasn't her best showing, yet again she never really faced a serious challenge.
After the "Single Jeopardy" round, Jass was ahead $6,600 to $5,800 for her nearest competitor; by the end of "Double Jeopardy," the gap was up to $14,400 to $8,200.
Like Thursday, all three contestants got the "Final Jeopardy" question wrong. In the category of "Oscar Nominees," the clue was, "One of his first Oscar nominations was for Best Actor; none of his other 22 nominations was for acting." The correct response: "Who is Woody Allen?"
Jass had wagered $5,600, but that still left her with winnings of $8,800 for the day and a five-day total of $98,970.
"Jeopardy!" today issued a press release with some quotes from Jass:
"I didn't go in expecting to win at all, let alone win so many times," she said. "Winning the first game was great. I could call myself a champion and hold my head high. After that, the rest was gravy."

When Jass first walked onto the Jeopardy! stage, she admits she was anxious. "I was nervous and excited all at the same time. It was totally surreal to be on the set that I have seen so many times on TV." Her nerves turned into excitement when she took her spot behind the Jeopardy! lectern. "The first time I signed my name on the podium with the light pen was pretty great!"

Jass returns to the Jeopardy! stage ready to defend her title. "My strategy is just to ring in as quickly as possible and NOT guess wildly."

As for her wagering method, she said, "I just wanted to win at all costs, so if I had a 'lock' game, I wasn't going to risk it with a big bet. The same goes for the Daily Doubles."
Jass' winning run will continue on Monday's episode. "Jeopardy!" airs at 7:30 p.m. weeknights on WDIV-TV, channel 4 in Detroit.
Bob Needham is director of entertainment content for AnnArbor.com. Reach him at bobneedham@annarbor.com or 734-623-2541, and follow him on Twitter @bobneedham.