Posted on
Fri, Mar 30, 2012 : 11:17 a.m.
'Mirror Mirror' a surprisingly decent take on Snow White story
By AnnArbor.com Freelance Journalist
Mirror Mirror
Opens today at Quality 16, Rave, Brighton.
Review by Jeff Meyers of the Metro Times
Grade: B-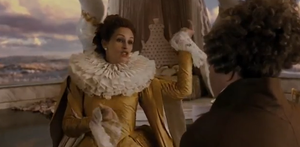 Sometimes it's nice to expect the worst and get something considerably better. To watch the trailer for "Mirror Mirror," the first of two Snow White adaptations to be released this year, was to expect disaster. (A peek-behind-the-curtain look at Hollywood's ever-growing list of botched marketing campaigns is long overdue.) And while no one will accuse this comedic take on the Grimms' well-known fable from director
Tarsem Singh Dhandwar
(formerly known simply as Tarsem) as being a great film, but you could do a lot worse. In fact, there's something refreshing about a live-action movie that embraces its PG aspirations without condescending to cheap pop culture jokes and crass characterizations.
Read the full review here