Posted on
Tue, Dec 29, 2009 : 10:19 a.m.
Mittenfest IV ready to rock the New Year, bigger than ever
By Jennifer Eberbach
Mittenfest IV, an annual music festival benefit for 826michigan, has grown to almost 40 bands and DJs performing over the course of four days.
Photo courtesy Quite Scientific Records
A core group of local Ypsilanti- and Ann Arbor-based musicians; bands from Detroit and all four corners of our "Mitten State," and ex-pat musicians will entertain live music fans Thursday December 31, 2009 through Sunday January 3, 2010, at
the Elbow Room
in Ypsilanti. All four days, the doors open at 4 p.m and music starts at 5 p.m.
Local favorites including Chris Bathgate, Great Lakes Myth Society, Misty Lyn and the Big Beautiful, and Black Jake & the Carnies are among the acts involved. View a full event schedule for Mittenfest IV or find more details on 826michigan's event page.
Event creator Brandon Zwagerman planned the first Mittenfest in 2006, "on a whim," with the intention of it being a "community-based, grassroots, DIY event," he says. In its fourth year, Zwagerman and 826michigan's program director Amy Sumerton have joked with each other about how "it has grown into a bit of a beast," Sumerton laughs. "It's a monster, but it's a cute, lovable monster," she says.
Zwagerman lived in Ann Arbor from 2001 to 2006, earning his B.A. in history and M.A. in urban planning from the University of Michigan. While he was in town he became deeply involved in the local music community as an avid fan — booking, promoting and hosting shows.
During the summers of 2005 and 2006, Zwagerman hosted acoustic shows a few times a month in his backyard on Madison Street in Ann Arbor. His do-it-yourself events at Madison House "created a really intimate community of mostly singer-songwriters" and supported local charitable projects, by collecting suggested donations from visitors on behalf of 826michigan, Growing Hope and the University of Michigan Residential College's East Quad Music Coop — he also booked shows at East Quad.
After moving to New York City in the summer of 2006 to work for an architecture and urban design firm, Zwagerman "got a little nostalgic and homesick." One night, he ran into Sumerton at a show in New York that featured Ann Arbor bands. "I mentioned to Amy that it would be fun to do a holiday music show when I was back in Michigan, just so I could see friends and bands I like all in one place," he explains.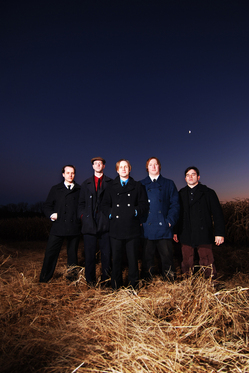 In its first year, a lot of old friends and local fans from the music community converged at the
Corner Brewery
in Ypsilanti for a day-long "reunion" and "cozy, grassroots gathering." Over the next two years, more bands got added to the roster, planners experimented with different venues and scheduling, and the event started regularly selling out beyond capacity.
According to Sumerton, "In addition to being a great showcase of local music and a great benefit for 826 that makes a lot of money for us every year, it's still really a community-based event. It seems the whole music community gets together for it. A lot of bands who play stay the whole time and there are always a lot of 826 supporters," she says.
"There seems to be more excitement and buzz about it this year, more than ever," Zwagerman says.
"Mittenfest has got a mind of its own at this point. It's not really a monster. People know about it and want to be a part of it. It almost planned itself this year...The evolution of the event has been really organic and incremental. Every year, it has gotten a little more ambitious. I don't feel like we are forcing it or getting overly ambitious though. It seems to want to grow on its own given the enthusiasm of everyone involved. I think we're growing at a small and sustainable rate," Zwagerman says.
This year's festival is sponsored by the Detroit Red Wings, who are promoting Open Skate in collaboration with local multimedia company Quack! Media. They will offer tickets to Open Skate and Red Wings merchandise designed by local artists, raffle off autographed Red Wings gear and more.
Beezy's Cafe will host the "official Mittenfest brunch" on Sunday, January 3, from 10 a.m. to 4 p.m. 8.26% of receipts will go to 826michigan's donation jar. Beezy's is located at 20 North Washington Street.
Mittenfest is also supported by the monies, toil and sweat of a number of local contributers. The event will feature a New Year's champaign toast at midnight sponsored by Quite Scientific Records, Mittenfest t-shirts and merchandise provided by VGKids, with additional support from Angela Duncan and Diamonds in the Rough. Local musician Chris Bathgate, who will perform at Mittenfest, volunteered plenty of time and energy to the event. 826michigan is particularly thankful for continued support from the Elbow Room's owner Andy Garris.
In return for the support and generosity the community has shown him, Zwagerman wants to support the local music scene, especially in Ypsilanti. "A thing I like about Mittenfest is that it is supporting Ypsilanti and building off of what is already going on there year-round," he says. "Ypsilanti is full of creative people who are really involved in their community," Zwagerman explains.
Mittenfest's creator also wanted to feature bands who are based all over Michigan, as well as ex-pats who have moved elsewhere. "I really like to cross-pollenate different music scenes who might not always play together. It will be good to get some new blood into town and I think everyone will be excited to see bands they've never seen before," along with their local favorites, he says.
Listen to a playlist of Mittenfest IV artists, including brand-new songs from Champions of Breakfast and Fred Thomas:
Formal attire is suggested for New Year's Eve, which will include a full music lineup, a midnight toast sponsored by Quite Scientific Records, followed by a dance party with DJ Todd Osborne until 4 am. Other nights, Sumerton expects to "see a lot of flannel and beards," in true Ypsi-Arbor style, she laughs.
Four-day event wristbands, at a cost of only $25, are available in advance at 826michigan's Robot Supply and Repair, located at 115 East Liberty Street in Ann Arbor, and at the Elbow Room, located at 6 South Washington in Ypsilanti. Admission at the door is an affordable $9 on New Year's and $7 the other three days. The event is likely to sell out again this year. You are encouraged to arrive early to ensure your admission.
Jennifer Eberbach is a free-lance writer who covers art for AnnArbor.com.