Posted on
Tue, Jan 10, 2012 : 11:03 a.m.
Moving in new musical directions, Mountain Heart returning to a favorite venue - The Ark
By Kevin Ransom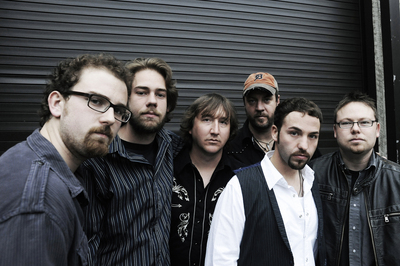 Over the last few years, the group Mountain Heart has definitely been a band in transition, in more ways than one.
First, they've changed personnel three times since 2007. And, more importantly, they've changed their sound: In 2007, after nine years of being a bluegrass/ newgrass / country-folk band, they added a piano / organ player—who also became their new lead singer. They've changed guitarists twice since then, and on their latest release, their already-assertive grooves are bolstered by a drummer.
The pianist / organist / singer is Josh Shilling, who joined the band in '07, and was first introduced to most Mountain Heart fans on their live album of that same year, "The Road That Never Ends," which was recorded live at The Ark.
"The guys felt that they had reached the ceiling on how far they could go with straight bluegrass," says Shilling, who joins his bandmates for a show at The Ark on Friday. "They'd won all the awards they could, they'd played the biggest venues they could, and they were asking themselves, 'What's out next thing? How do we keep growing the music?'"
The answer, they decided, was Shilling, because he comes from a decidedly different background. His roots are in classic R&B, Southern rock and jazz, and he has a big voice that's well-suited to the bigger sound they wanted to create.
How to categorize that sound is problematic, because they still play bluegrass / newgrass, but they've also added Shilling's R&B / Southern-rock / jazz instincts to the mix, so their latest release, the EP "That Just Happened" is heady a mix of those styles - sometimes within the same song.
PREVIEW
Mountain Heart
Who: Acclaimed band that has moved from bluegrass roots to a broader stylistic palette.
What: A mix of bluegrass / newgrass, country, R&B, funk and rock elements, with instrumentation that includes acoustic guitar, banjo, fiddle, mandolin, bass, piano and Hammond organ.
Where: The Ark, 316 S. Main St., Ann Arbor.
When: Friday, 8 p.m.
How much: Tickets available from The Ark box office (with no service charge); Michigan Union Ticket Office, 530 S. State St.; Herb David Guitar Studio, 302 E. Liberty St.; or online from the Michigan Union Ticket Office.
In addition to a few originals, the disc also includes three covers—the Allman Brothers' venerable "Whipping Post"; the trad-bluegrass classic "Little Sadie"; and "The Ride," written by Gary Gentry and J.B. Detterline Jr and first recorded by country artist David Allan Coe in the early 1990s. It's since been covered in more raucous fashion by Hank III (grandson of Hank Williams.).
The most intriguing track, of course, is "Whipping Post." It follows the same unconventional time signature, and the same melody, as the original, and Shilling's soulful pipes allow him to give it a vocal punch similar to Gregg Allman's, and at 7-minutes-plus, it makes room for some Allman-worthy jamming. But, the sounds of fiddle and banjo are right up front, with the mandolin darting in and out of the mix.
And the title track—co-written by Shilling and founding member / fiddler Jim VanCleeve—is a rousing, anthemic, rocking track with a chorus designed to encourage the audience to engage in a call and response with the group. "We really wanted to project a good time with that one," says Shilling, "to get the fans standing up and screaming and singing back to us—something that would have them saying, as they left, 'What just happened?'" Hence, the title.
When the group recorded "That Just Happened," the guitarist was Jake Stargel, but he has since departed to pursue other projects he wanted to do with his other musician friends, says Shilling. So, the new guitarist, who just recently began playing live shows with the band, is Seth Taylor.
Besides VanCleeves, Shilling and Taylor, the group includes founding member / banjo picker Barry Abernathy, bassist Jason Moore and mandolin player Aaron Ramsey.
"This was the first recording Mountain Heart had made on its own," notes Shilling during a phone interview from his hometown of Bassett, Virginia. "All of the previous records were made when the band was signed to a label, and of course, when you're on a label, there are people at the record company who want you to do certain songs, or sound a certain way.
"But this one was completely made with our audience in mind," says Shilling. "We'd been playing all of these songs in our live shows, and when it came time to make the record, we chose to cut the songs that got the best response from the audience at those shows."
When the band went about writing the new songs and choosing covers, they also "wanted to represent who we are every night, onstage, so that the fans could buy a piece of who the band is now," says Shilling. "We wanted to incorporate my musical instincts and background, but we also knew that a lot of the groups's fans are people who've been with the band from the beginning, when Mountain Heart was playing straight bluegrass, so we wanted to represent that part of the band's musical palette as well."
The group also sought fan input when it came to song selection. While they were recording, the band invited fans, via its Facebook page, to suggest what songs from the group's live repertoire they would like the album to include. "We got about 500 or 600 responses requesting 'Whipping Post' and 'The Ride.'
"And, by that point, after I'd been in the band for a couple of years, the fan base, while rooted in bluegrass, had become more diverse, which was also partly due to us playing at festivals that included a lot of the jam bands, like the Allman Brothers in particular. That's why the record goes in several different directions, stylistically.
"And at those festivals, we've seen that these songs really work, even in front of a crowd of 15,000 people."
Kevin Ransom is a free-lance writer who covers music for AnnArbor.com who can be reached at KevinRansom10@aol.com.