Posted on
Tue, Dec 15, 2009 : 5:40 a.m.
"Re.Fresh" photo exhibit celebrates Ann Arbor Summer Festival
By John Carlos Cantu
Myra Klarman's "Re.Fresh" exhibit at Café Zola is as close to a community snapshot as we're going to get out of Ann Arbor any time soon. One of our town's celebrated portrait photographers, Klarman's crafted a tidy exhibit presenting last year's Ann Arbor Summer Festival.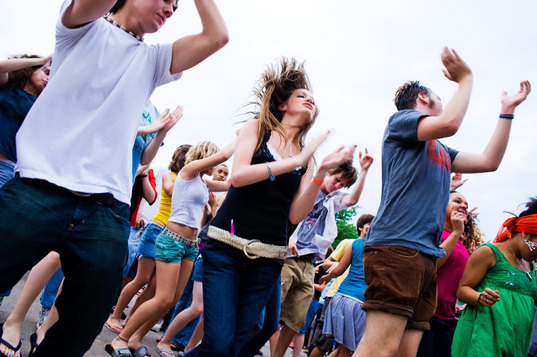 Photo courtesy Myra Klarman
Her artist's statement says it all of this highly skilled — and exceedingly compact — 5-photograph Zola show. "Re.Fresh" says Klarman, "is an exhibit of my most dramatic images taken during the 2008 season. My vision is that the large-scale prints (each 6 feet wide) give us the chance to experience (or re-experience) some of these peak moments.
"There's no event in Ann Arbor," Klarman continues, "that matches the entertainment value and aesthetic qualities of the Summer Festival: Ann Arborites of all backgrounds and ages coming together for more than three weeks in the architecturally-rich (University of Michigan) Ingalls Mall — taking in stunning performances, bumping into neighbors and friends, learning to tango, catching a favorite flick, and generally having a good time. And it all happens in dramatic, evening light."
These off-the-cuff observations pretty much capture the visual zest found in this exhibit. For there's no denying that Klarman's five oversized color photos are a particularly special photojournalistic commentary illustrating how Tree Town enjoys itself.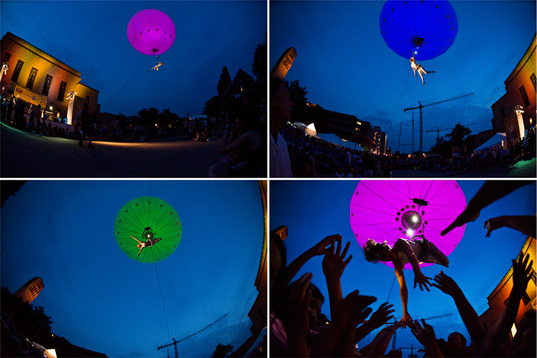 Photo courtesy Myra Klarman
For example, the spectacular four photos constituting "Dream Machine Heliosphere" feature this exciting acrobatic troupe at differing stages of its airborne routine. Carefully balancing her color palette with her subject, Klarman creates an informal chronology of the performance through her expertise and enthusiasm.
Then again, Klarman's photograph of self-proclaimed Ann Arbor disco-bebopper Ross Huff (of the fusion band The Macpodz) is a work of jazzy soulfulness. Her photo's golden-tinged palette precisely conveys Huff's intensity at one of the peaks of his performance. Using the festival's logo as an embracing background to the trumpeter's holding his instrument upward, Klarman creates an uncommonly superb portrait.
Catching a worthy image on the fly is the photographer's hardest trick and Klarman uses a wide angle lens during the opening performance of Ann Arbor's My Dear Disco to pull off this considerable feat. Seizing an impromptu moment of vertical rapture in "Dancing to My Dear Disco," Klarman then contrasts this action against an equally vivid horizontal leap of two athletically graceful performers in "Streb vs. Gravity" that's equally accomplished.
Finally, Klarman's "Movie Night" may be the masterwork of this exhibit. Deftly avoiding a spray of concentrated light from the work's background projection booth while also capturing key lighting underscoring U-M's Burton Tower, Klarman crafts a dramatic visual gestalt between the huddled children seated in the photo's foreground and a receding audience that's close to a communal family portrait.
Klarman subtly reminds us in this folksy photograph that Ann Arbor is indeed an exceptional city, and it's quite easy to forget this in our everyday bustle around town. But as her spirited photograph of these youthful faces shows us — it's also an indisputable fact in which we ought to take considerable civic pride.
John Carlos Cantú is a free-lance writer who reviews art for AnnArbor.com.
"Myra Klarman: Re.Fresh" continues through February 1 at Café Zola, 112 West Washington Street. Exhibit hours are 7 a.m.-10 p.m. Sunday-Thursday; and 7 a.m.-11 p.m. Friday-Saturday. For information, call 734-769-2020.