Posted on
Sat, Feb 18, 2012 : noon
News Quiz: Test your news knowledge
By Ann Dwyer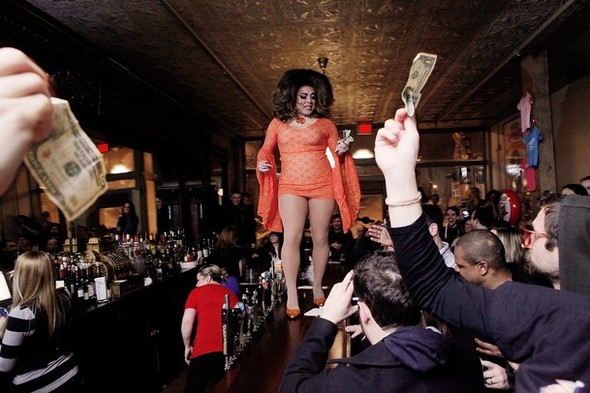 The fourth type of what kind of animal was found on Ann Arbor's west side?
A) Mangy deer
B) Rabid skunk
C) Venomous snake
D) Adorable kitten
What is the photo from?
A) A typical night in Dexter
B) Deja Vu Amateur Night
C) Love is a Drag Show at Frenchie's
D) Opera on Tap at Sidetrack
In a sign that even Ohio residents don't want to be from Ohio, what crime occurred at Washtenaw Community College?
A) An Ohio man stole a Michigan resident's wallet and used his ID.
B) An Ohio teenager claimed he was a Michigan resident on his WCC application
C) Ohio State car decorations were found broken and littered on the ground
D) A Michigan license plate was stolen and replaced with an Ohio one
Forsythe Middle School remained open after a bomb threat was deemed unfounded. However, many sixth-graders did not show up to class. The principal gave what reason for the absences?
A) The kids were new to the school and not used to bomb threats
B) They were afraid to die
C) Some of the kids decided it should be a skip day
D) A flu outbreak











Answers: 1-B, 2-C, 3-D, 4-A