Posted on
Sat, Mar 10, 2012 : 10:11 a.m.
Cinnamon challenge, name that song, petitioning teen and sign problems
By Ann Dwyer
1. The Huron High School principal sent out an email to parents alerting them of a game known as the "cinnamon challenge." What is the "cinnamon challenge"?
A) Attempting to swallow a teaspoon of the spice
B) Crushing red hots and attempting to snort them
C) Putting a drop of the essential oil into an eye
D) Eating a piece of the bark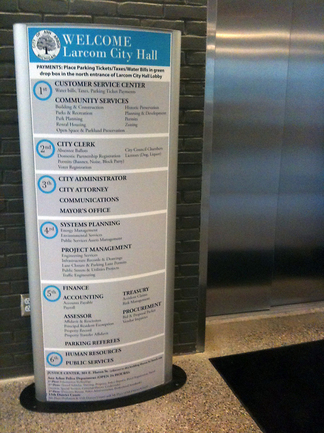 2. Former Michigan football captain David Molk recently brushed off criticism about his NFL draft-pick status by using which quotation from a song?
A) I've paid my dues, time after time
B) I've got the moves like Jagger
C) I'm sexy and I know it
D) I'm bringing sexy back
3. An Ann Arbor teen was recently on the Ellen DeGeneres Show for delivering a petition that asked what?
A) High schools offer birth control
B) A movie rating be lowered on a film about bullying
C) Rush Limbaugh be taken off the air
D) The Michigan law on bullying in schools be cleaned up
4. What does the pictured sign at city hall have to be replaced?
A) Several offices are listed on the wrong floors
B) It wasn't properly bid out
C) It is in Spanish
D) Spelling errors
Answers: 1-A, 2-C, 3-B, 4-D