Posted on
Thu, Oct 25, 2012 : 11:12 p.m.
Oliver Stone's Penny Stamps lecture packs the Michigan Theater on Thursday
By Jenn McKee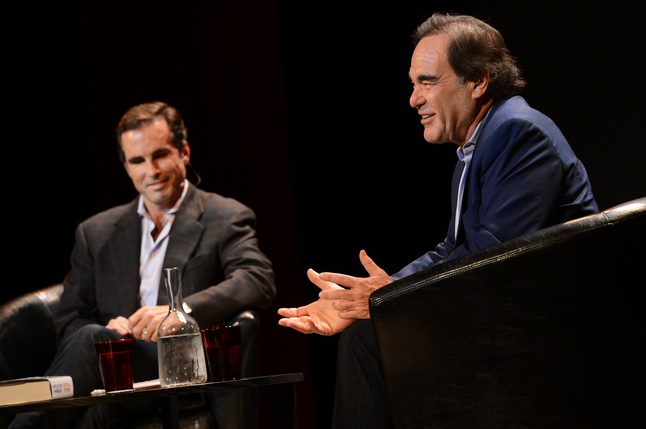 Photo by Melanie Maxwell | AnnArbor.com
Though hundreds packed into the Michigan Theater on Thursday to hear controversial filmmaker
Oliver Stone
talk about his body of work on film, much of the conversation (with ABC News journalist and University of Michigan grad
Bob Woodruff
) focused on history.
Not surprising, perhaps, considering how many of Stone's movies explore historical figures; but the interview's trajectory was primarily influenced by Stone's newest project: a 10-hour Showtime series, which will air in one hour increments weekly, called "The Untold History of the United States," which begins November 12, and coincides with the release of a book (October 30) of the same name that Stone co-authored with Peter Kuznick.
The capacity crowd got to see two brief sneak peeks of Stone's new documentary program throughout the nearly two-hour Penny Stamps lecture. But the evening kicked off with a four minute video montage of highlights from Stone's previous work, and Stone talking about how his generation was shaped by the atomic bomb.
"Every one of us, especially young people, grew up with the shadow of great fear in our lives," said Stone. "We don't realize … how much it really distorts our lives."
Stone discussed how Kuznick, who taught an American University course focused on Stone's films in the 1990s, initially invited Stone to speak to his class, and then tried to entice the filmmaker to pursue a movie about Henry Wallace, a Vice President under Franklin D. Roosevelt who was tossed off the ticket in 1944. Stone told Kuznick the movie wouldn't work - but after more than 10 years of being in touch, Stone admitted to Kuznick, "I just can't get that Henry Wallace script out of my mind."
And while Stone's next idea was to make a 60-90 minute documentary about Wallace, the project bloomed into the "Untold" book and series.
Here's Stone commenting on his drive to explore ambiguities in history.
When Woodruff asked about Stone's focus on American Presidents in his work, Stone responded, "They're all great characters, and the idea that attracted me was that I would go into somebody else's shoes. I didn't like Richard Nixon, but my God, I tried to understand him. … That's not to say that I liked him at the end of the movie. I empathized with him. I didn't sympathize with him."
Woodruff also asked Stone to talk about his decision to leave college to go fight in Vietnam. (Note: the video contains some adult language.)
Nearly 90 minutes into the program, Woodruff and Stone invited audience members to ask questions. One 14 year old fan asked what it was like to win an Oscar (Stone won for writing "Midnight Express" and for directing "Platoon").
"It's like when Elizabeth Taylor takes you in her arms and gives you a kiss," said Stone with a smile. " … It was nice."
Here's Stone responding to the question of whether he'd make a film about the war in Afghanistan.
Friends Kaarina Quinnell and Richard Kolbusz, of Ann Arbor, were among the hundreds of people who came to see Stone on Thursday, and Quinnell had an unusual connection to the filmmaker: She'd worked for two days as an actress in "The Doors"' Human Be-In scene when it was filmed in San Francisco (where she had been living at the time).
"I wanted to ask him if he remembered filming that - but that's not a very serious question," said Quinnell. " … I did get to meet him back then, and he was very nice."
Quinnell thought Stone's talk was "like a history lesson," and Kolbusz said, "I appreciate what I think he's trying to do - the idea of starting a debate and getting people thinking and examining what they believe about American history."
Jenn McKee is the entertainment digital journalist for AnnArbor.com. Reach her at jennmckee@annarbor.com or 734-623-2546, and follow her on Twitter @jennmckee.