Posted on
Wed, Mar 28, 2012 : 7:17 a.m.
HMS Pinafore at UMGASS, 'White Buffalo' at the Purple Rose
By Carla Milarch
Tuesday, March 27 was World Theatre Day 2012. At the International Theatre Institute Gala, American actor John Malkovich (who recently toured to Ann Arbor in UMS's "Confessions of a Serial Killer"), was asked to make a statement. Here is an excerpt from that speech, which he addressed to his "fellow theater workers, peers and comrades":

"May your work be compelling and original. May it be profound, touching, contemplative, and unique. May it help us to reflect on the question of what it means to be human, and may that reflection be blessed with heart, sincerity, candor, and grace. May you overcome adversity, censorship, poverty and nihilism, as many of you will most certainly be obliged to do. May you be blessed with the talent and rigor to teach us about the beating of the human heart in all its complexity, and the humility and curiosity to make it your life's work. And may the best of you—for it will only be the best of you, and even then only in the rarest and briefest moments—succeed in framing that most basic of questions, "how do we live?" Godspeed." - John Malkovich

Theater offerings for the week

Show:"HMS Pinafore"
Company: UM Gilbert and Sullivan Society
Type of Company: Community Theater
Venue/location: Lydia Mendelssohn Theatre, 911 N. University Ave., Michigan League, Ann Arbor
Recommended ages: 12+
Description: "Pinafore," which pokes fun at the English class system of the late 1800s, involves a forbidden love affair between lowly sailor Ralph Rackstraw and the captain's daughter, Josephine, who has been promised in marriage to Admiral Sir Joseph Porter. The two youngsters plan to elope, but the captain catches wind of the plan and throws Rackstraw in the brig. At the last minute, a peddler named Little Buttercup reveals a secret that saves the day.
Preview from AnnArbor.com
Fun fact: "Pinafore" was the fourth collaboration between William S. Gilbert and Arthur Sullivan and their first big hit. It opened at the Opera Comique in London England, on May 25, 1878 and ran for 571 performances, which was the second-longest run of any musical theater piece up to that time.
For tickets and information: 734-763-3333, www.umgass.org/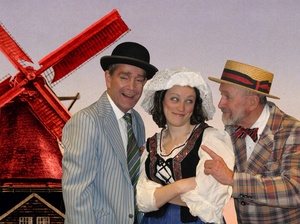 Photo provided by Comic Opera Guild
Show:
"The Red Mill" by Victor Herbert, through April 1
Company:
Ann Arbor Comic Opera Guild
Type of Company:
Community
Venue/location:
The Village Theater, 50400 Cherry Hill Road, Canton
Recommended ages:
All
Description:
"The Red Mill" is one of those lucky Broadway shows, like "Annie Get Your Gun," in which almost every song became well known. Herbert's scores for "Sweethearts" and "Naughty Marietta" also produced a number of hits, but no more so than this 1906 hit. The show's most recognizable melodies include: "The Isle of Our Dreams," "Moonbeams," "The Streets of New York," and "Every Day is Ladies Day with Me."
More information
Fun fact:
In the early years of the American musical stage, productions tended to be rather unsophisticated revues or burlesques. The better shows were all imported from Europe. Herbert came to America from Ireland as a cellist and conductor, but soon tired of performing the works of other, less capable people. He began writing scores for the stage, and shortly became the most sought-after composer on Broadway. His meticulous and gorgeous scoring earned him the title "The Father of the American Musical."
For tickets and information:
734-394-5460,
www.canton-mi.org/villagetheater
Show:
"Cloud Nine" by Caryl Churchill, through April 8
Company:
UM Department of Theatre & Drama
Type of Company:
Higher Education
Venue/location:
Arthur Miller Theatre, 1226 Murfin, Ann Arbor
Recommended ages:
18+
Description:
A wild ride through the sexual politics of one family over two centuries.
Preview from AnnArbor.com
Fun fact:
The two acts of the play form a contrapuntal structure. Act 1 is set in Victorian British colonial Africa, and Act 2 is set in London in 1979. Between the acts, 25 years pass for the characters and each actor plays one role in Act 1 and a different role in Act 2. The characters that appear in both acts are played by different actors in the first and second.
For tickets and information:
734-764-2538,
tickets.music.umcih.edu
Show:
"Dead Man's Shoes" by Joseph Zettelmaier, through April 8
Company:
Performance Network Theatre
Type of Company:
Professional Equity (SPT)
Venue/location:
Performance Network Theatre, 120 East Huron, Ann Arbor
Recommended ages:
16+, Contains adult themes and language.
Description:
From the playwright of the smash hit "It Came From Mars" comes a dastardly comedy, based on fact, but steeped in the tone of a good old-fashioned outlaw movie. Injun Bill Picote and Army deserter/camp cook Froggy wander the wild west in search of a man who done a truly despicable deed. Filled with true grit and dark humor, it's a fast-paced and panoramic journey to the dark side of American history. Winner of the Edgerton Foundation New American Play Award.
Review from the Detroit Free Press
Fun fact:
Many legends surround cattle rustler George Parrott, aka Big Nose George—including one which claims him as a member of Butch Cassidy's Wild Bunch. Cassidy, however, would only have been 14 at the time of George's death, so the theory has been ruled out by historians. There is also speculation that he ran with the James brothers—with the flames of this rumor fanned by George himself. However, it is generally agreed that Parrott was more of a run-of-the-mill horse thief and highwayman. His gang enjoyed a successful run of robbing stagecoaches, until an attempted train robbery earned him the unexpected (and likely unwanted) distinction of being the only known man in American history to be turned into a pair of shoes.
For tickets and information:
734-663-0681,
www.performancenetwork.org/
Show:
"Spring New Work Series" by various playwrights, through April 15
Company:
The New Theatre Project
Type of Company:
Professional Non-Equity
Venue/location:
Mix Performance Space, 130 W. Michigan Ave., Ypsilanti
Recommended ages:
various, check website for details
Description:
The spring gives birth to staged readings of original work featuring talkbacks with the playwrights. Also included for the first time, The New Theatre Project will feature guest speakers and round table discussions with local playwrights and theater artists. Full festival schedule is available on the theater's website.
Fun fact:
This week's offerings are:
"Wolf Cry Wolf" by Kevin Kautzman March 31 - When Steph returns to North Dakota from New York City for the first time in years, she finds her estranged childhood friend Jane has arranged a surprise reunion with a young man Steph would rather not see. As they descend into their memories, they discover things about themselves they once knew but chose to forget.
"Cloudy/Clear" by Keith Paul Medelis, April 1 - This contemporary piece explores one of the last plays written by Tennessee Williams, largely autobiographical, in an entirely re-imagined way. A play about love and memory and the impossibility of both to be completely clear.
For tickets and information:
Call or text 734-645-9776,
www.thenewtheatreproject.org
Show:
"Godspell" by Stephen Schwartz and John-Michael Trebelak, through April 22
Company:
The Encore Musical Theatre Company
Type of Company:
Professional Equity Special Appearance Contract, Non-Equity.
Venue/location:
The Encore Musical Theatre Company, 3126 Broad Street, Dexter
Recommended ages:
All
Description:
"Godspell" is a musical based on the gospel of St. Matthew, using a collection of songs written by
Stephen Schwartz
and vaudevillian skits. With songs like "Day by Day", "Turn Back O Man", and "All For the Best", the whole family will love this show.
Preview from AnnArbor.com
Fun fact:
The song "Day by Day" reached #13 on the Pop Billboard Charts in 1973.
For tickets and information:
www.theencoretheatre.org
, 734-268-6200
Special ticket offer:
March 30, after the opening night performance, there will be an afterglow at a restaurant in Dexter with cast and crew.
Show:
"White Buffalo" by Don Zolidis, through June 2
Company:
The Purple Rose Theatre Company
Type of Company:
Professional Equity (SPT)
Venue/location:
The Purple Rose Theatre Company, 137 Park Street, Chelsea
Recommended ages:
14+ (contains some adult language and content)
Description:
When Carol Gelling discovers that a buffalo born on her farm is pure white, she thinks it's nothing more than a curiosity. She soon learns that the birth of the white buffalo fulfills an ancient Sioux prophecy—the coming of peace on earth and unity of mankind. Almost overnight, her small farm becomes a hotbed of spiritual outpouring—from Native American pilgrims to the Dalai Lama. When a mysterious businessman offers to buy the calf, Carol must decide whether the white buffalo signals the end of her financial hardships or the beginning of her own spiritual enrichment.
Preview from AnnArbor.com
Fun fact:
White Buffalo won the 2004 Princess Grace Foundation Award for Playwriting, which earned it publication by Samuel French, but it has not received a professional production until now.
For tickets and information:
734-433-7673,
www.purplerosetheatre.org
Special ticket offer:
Tickets for preview performances range from $20 - $30.