Posted on
Sun, Dec 26, 2010 : 6:12 a.m.
'Did you eat?' means 'I love you': Deciphering our families at Christmas
By Frances Kai-Hwa Wang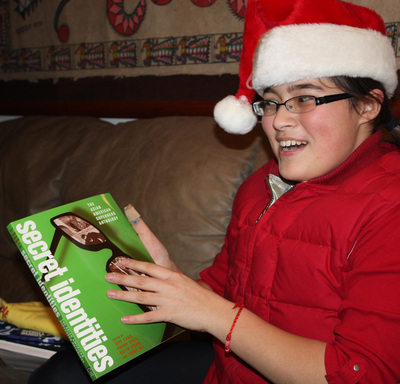 An Asian American Christmas — author Frances Kai-Hwa Wang's daughter Hao Hao in that first moment of shocked recognition of what the ultracool gift in her hand is, Secret Identities — The Asian American Superheroes Anthology. | Frances Kai-Hwa Wang | Contributor
A few days before Christmas last year, I cheekily signed off an email to family and friends, "I've got a date with Robert Downey, Jr. on Christmas day."
My mother was pleased to hear that I was going to be with friends on Christmas day since I could not go home, and she asked my brother if he knew anything about my new friend, Robert Downey, Jr.
My brother told her that Robert Downey, Jr. was an actor.
My mother worried about the low income and job insecurity of actors.
My brother explained that Robert Downey, Jr. was not that kind of actor, and that his movie, Sherlock Holmes, was opening Christmas Day.
Oh.
Gotta love our parents.
With Christmas and New Year's Day falling on weekends this year, many of us will be spending more time with our extended families — eating, gossiping, scolding, fighting, eating some more, getting advice, getting set up on dates, the same old jokes, and did I mention eating again?
I have recently fallen in love with the websites, mymomisafob.com (book coming out Jan. 4) and mydadisafob.com, both dedicated to the "best humorous, adorable, and loving messages from your fobby mom/dad." FOB stands for "fresh off the boat," usually an insult for recent immigrants, but in these cases (plus absolutelyfobulous.com), it has been reappropriated by the children of immigrants to share the wonderfully funny and idiosyncratic things our Asian immigrant parents say and do to us. There is a fine line between laughing with and laughing at, and these bloggers do a fabulous job (or should I say fobulous job) of sharing the (fobby) humor without slipping into insult (because these are our parents whom we love, after all). Common themes are unintentional English errors, extreme overprotectiveness, conservative mores, misunderstanding American culture and just a bit of parental craziness.
My favorite entry, which encompasses all of these:
"Scene: School parking lot after class ends. My mom points out a Chinese couple making out near the bathrooms.

Mom: Aiiiiiiiiiii-YAAAAAAAAAA! Can't they do that behind bushes or suuumting? If you eveeeeeeeeeeer get boyfriend, don't let me see do something like that!

Me: Don't worry. I wouldn't dare to.

Mom: Good. Because if you do, I take picture and send it to grandma. And then when grandma get heart attack, you pay hospital bills."
I had dinner with a group of teenagers last week who spoke lovingly and humorously about their Greek, Jewish and Chinese grandparents in anticipation of the holidays. Amid great wallops of laughter and oneupsmanship, they talked about the odd ways their grandparents sometimes dressed, the crazy things their grandparents did and said, teaching their grandparents about the internet, and how their grandmothers were always feeding them (like the T-shirt from Asian American apparel company Blacklava.net: "Did you eat means…I love you."
The accents were different, but the grandparents were the same.
My sixth-grade daughter Niu Niu and I have been on a Jane Austen jag these past few months, watching Jane Austen movies together and reading her books (okay, only Niu Niu is reading her books). It has been an intriguing cultural immersion trying to decipher them (including researching online, accosting English professors), not unlike what my parents/ her grandparents probably experience deciphering America.
My oldest daughter M teases, "So, do you have a date with Mr. Darcy on Christmas?"
"Who?" I am flustered for a moment before I realize she means Colin Firth, the actor who stars as Mr. Darcy in Pride and Prejudice, Mark Darcy in Bridget Jones's Diary, and opening on Christmas day, as King George VI in King's Speech.
Touche.
Frances Kai-Hwa Wang is a second-generation Chinese American from California who now divides her time between Ann Arbor and the Big Island of Hawaii. She is editor of IMDiversity.com Asian American Village, lead multicultural contributor for AnnArbor.com and a contributor for New America Media's Ethnoblog. She is a popular speaker on Asian Pacific American and multicultural issues. Check out her website at franceskaihwawang.com, her blog at franceskaihwawang.blogspot.com, and she can be reached at fkwang888@gmail.com.