Posted on
Thu, Feb 16, 2012 : 6 a.m.
Teach your kids fun facts about U.S. presidents
By Angela Verges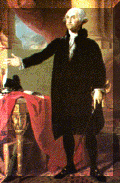 It's almost Presidents' Day, a good time to test the kids on their U.S. history. On a recent car ride, I decided to quiz my teen son on the number of presidents he could name. His off the cuff response was, "Lincoln, Washington, Obama, Reagan, Bush, Teddy Roosevelt…" He was able to name about 15 presidents without hesitation.
When I asked my son to tell me an interesting fact about some of the presidents, he knew Ronald Reagan was an actor. He also knew the teddy bear was named after Theodore Roosevelt. A Google search led me to fun facts provided by national geographic kids.
Below are some of those facts:
• Abraham Lincoln was the tallest U.S. President at 6 feet 4 inches.
• James Garfield was the first left-handed President.
• Andrew Johnson was a tailor before he was President.
• Jimmie Carter was a peanut farmer.
• "Before Theodore Roosevelt came to office, the White House wasn't even called the White House. People called the building the President's Palace, President's House and the Executive Mansion."
• Franklin Delano Roosevelt was the first to ride in an airplane.
The Heritage Newspaper also had interesting facts on their Kids View page about our presidents (Jan. 26, 2012).
• As a teenager, Barack Obama worked in a Baskin-Robbins. He does not like ice cream.
• George Washing was the only president who never lived in the White House. It wasn't finished being built at the time.
• Grover Cleveland's daughter Esther was the only child of a president to be born in the White House. The Baby Ruth candy bar was named after Cleveland's daughter.
• The first National Park, Yellowstone, was created in 1872 under President Ulysses S. Grant.

What interesting fun facts can you share about our U.S. presidents?
Angela Verges is a writer and mother of two. She can be reached at awritersdream41@yahoo.com.