Posted on
Mon, Feb 22, 2010 : 10 a.m.
Get your nits picked at Rapunzel's Lice Boutique
By Stefan Szumko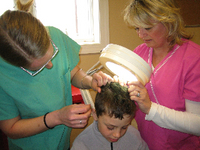 Photo courtesy of Rapunzel's Lice Brigade
A few weeks ago, we had some houseguests stay with us. Fear and terror was brought into our household when a few days before the visit, we were informed that both the mother and daughter of the family were infected with lice. To keep our heads and home free of these creatures, we sent them to the Rapunzel's Lice Boutique. After a couple of visits, their hair was cleared, and our visit was worry-free.
So I asked my friend, Sarah Casello-Rees, founder and owner of Rapunzel's Lice Boutique and the Lice Brigade, to send me an article about how and why she opened these lice removal operations. Hopefully it will save some of our readers from the hassle of getting rid of these pests. Here is what she wrote. - Stefan

Head lice. Just mention those two little words and watch in amazement as people begin scratching their heads. Unfortunately, my family has dealt with head lice more than once. Here is our tale of turning a miserable situation into opportunity. Because, you see, my family's travails turned into a new business for me.
In the fall of 2007, my son, then a fresh-faced kindergartner, brought home a roaring case of head lice. It was not until I found a louse on my own head that I checked him. He was majorly infested. However, he was like 60 percent of people with head lice - showing no symptoms.
I was desperate. I ran to the store and bought every pediculicide I could find, including horribly toxic furniture spray. Upon check-out, the cashier observed my purchases and succinctly summed it up: "Uh, this doesn't look good..." Talk about an understatement.
I went insane cleaning everything. I was frantic and frenzied, unsure what I was supposed to do and unable to find any help. My husband did his best, spending hours going through my thick mane, but his fifty-year-old eyes aren't the best for spotting lice. Plus, he didn't know what he was doing any more than I did. Desperation time.
I remember actually entertaining the thought that we might never get rid of this. If only there was someone who could help me, I would definitely pay for guidance, assistance and peace of mind. Light bulb moment...
I had been a personal trainer in the Ann Arbor area for about 15 years but, because of the economy, fewer people could afford a trainer, so my business was not exactly booming. I thought "lice removal — now that's something people will need regardless of the economy." Boy was I right.
I kept pondering the idea — researching the best head lice removal techniques and products — until I truly felt I'd become the expert I so desperately needed before. So, in the fall of 2008, I opened The Lice Brigade.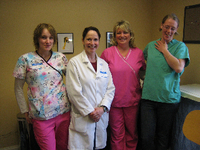 Photo courtesy of Rapunzel's Lice Boutique
We offer in-home, non-toxic head lice treatment and removal of nits as well as environmental cleaning. We service all of Southeast Michigan, as well as the Grand Rapids region. Business was so good that we opened Rapunzel's Lice Boutique in April 2009. Now parents have two choices: They can have us come to their home, or they can come to our homey Ann Arbor boutique. Clients come from all over Michigan, Ohio, and beyond - we've had clients from Canada, Indiana and even Missouri.
With the help of my researcher husband, we developed our own line of non-toxic treatment and prevention products. If we can't treat you in person, we can still ship our products to you. We have a special silicone oil to suffocate the live bugs as well as an enzyme spray that loosens the nit glue for easy egg removal. Our shampoo and conditioner are infused with natural essential oils famous for their insect repelling properties.
Here are some "facts of lice":

Head lice are wingless insects about the size of a sesame seed.


Head Lice can not hop, jump or fly. They are most often acquired through hair to hair contact.


Head lice affect approximately 12 million people annually.


A female louse needs only to be fertilized once, and can then lay about six eggs (nits) a day for the rest of her life. A louse lives for approximately 30 days.


A nit hatches in about seven to 10 days and the nymph (juvenile louse) reaches reproductive maturity in about another seven to 10 days. So, within a few weeks, you could have quite the colony happening.


Head lice are showing a resistance to both over-the-counter and prescription pediculicides.


The safest, most effective treatment is manual removal.
-Sarah Casello-Rees, owner
The Lice Brigade 734-929-9080
Rapunzel's Lice Boutique 734-929-9180
2390 Winewood Ave., Ann Arbor MI 48103
www.licebrigade.com
Stefan Szumko enjoys insects and bugs of all kinds, so long as they stay outside and out of his hair. Stefan can be reached at slugwhisperer@gmail.com.