Posted on
Tue, Feb 14, 2012 : 12:26 p.m.
Happy Valentine's Day, babies! And toddlers!
By Jenn McKee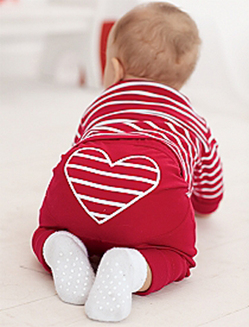 After spending about 90 minutes of my precious and rare free time last night tearing "Toy Story" and Disney Princess valentines apart; and doing the same with accompanying sheets of stamp-size stickers; and inserting the stickers — with surgeon-like precision — into tiny, diagonal tabs on the valentines; and folding the valentines in half; and affixing a heart-shaped sticker to keep them closed; and signing my daughters' names (ages 3 and 7 months) onto each one, I finally wondered, "What on earth am I doing?"
The answer, of course, is that for some inexplicable reason, I'm choosing to participate in the weird, self-perpetuating, down-the-rabbit-hole annual holiday ritual of parents — OK, fine, mothers, primarily — who have little ones in daycare, and thus have kids that are instructed in the ways of Valentine's Day before they can even crawl. (I'll add here that I love the kids' daycare center, and my guess is that these rituals were likely, ironically, parent-driven originally more than driven by those who work at the center. I'll also submit that I should, in the future, by kids' valentines that require less assembly.)
Consequently, today, during a preschool Valentine's Day party, my oldest daughter, Lily, will randomly distribute 55 impersonal, unaddressed, grocery-store-bought valentines to kids who will probably look at them briefly, if at all, before they end up in the trash or recycling (all that painstaking sticker insertion for naught!); and baby Neve — presumably with the help of her caregivers, since the extent of her abilities just now max out at "drooling like a waterfall" and "sitting up unassisted" — will give out 16 of the same cards to her cooing comrades in the daycare center's baby room.
So much effort — for what, exactly?
I was all uber-rational about such things when Lily was a 9 month old in the baby room. Yes, I got the pre-emptive Valentine's letter that stated how many kids were in each class, and how we shouldn't send along candy or treats, but I ignored this as silly — as I assumed all the other "baby room" parents would — and brought in a big fat bowl of nothing on Valentine's Day.
Now cut to me picking Lily up later that day and finding a brown paper bag full of little valentines, signed with the name of her classmates (these babies had astonishing penmanship, I might add). After we arrived home, I stared at Lily's pile of valentines with a mixture of bafflement, guilt, amusement, gratitude, and anger. For there was something undeniably sweet about this adults' game of pretend — this puppet show of affection and good will that we parents played out through our infant children.
But then the rational side of me thought, "This is ridiculous. It makes no sense. It's a waste of money, time, and materials, and it's one more thing to pile on to a parent's already too-full plate."
If I have a super power, though, it's the ability to feel profound guilt over committing the smallest slight, intentional or not. So despite my sensible pragmatism, I caved because I felt bad that other parents had made this small, kind gesture toward Lily and our family, and thought that I should probably afford their child the same.
But it still rings weird to me. That's partly because I always, always, always think it's a peculiar affectation to pretend a baby has written a letter/e-mail/note. And when the babies appear to exchange little candy treats at Halloween, I tend to think, "Come on. We know the parents are eating these things. Why don't we just be honest and share little bottles of airplane booze?"
That won't happen, I know. But I like to think it could.
So I keep on grudgingly participating in this bizarre holiday ritual for infants and young kids partly out of guilt, partly out of good will, and, if I'm being honest, partly because of good old fashioned peer pressure.
Maybe we daycare/preschool moms all just go along with it, rather than applying logic to the situation, because we constantly feel the need to prove to each other, and to ourselves, how much we care. For if this annual, nutty, night-before-Valentine's cram session is all a show for the adults involved, what precisely is that show about?
Perhaps it's about how our society and culture still regularly tell women, in ways subtle and not-so-subtle, that if you're a woman with a child in daycare, you're shortchanging him/her. That you're not loving your child enough, and that you'll hurt him/her in the long run.
And if that is, indeed, what this is about, perhaps these ludicrous little heart-covered notes in paper sacks, with a baby's name hurriedly scrawled in an adult's handwriting, are a strange kind of coded message system that translates to, "Your kid's with my kid. And you know what? They're loved, they're cared for, and they're all going to be just fine."
So if all this indirectly works to establish a sense of community among families, I guess I can accept that.
But believe me when I say that I'm on the hunt for the simplest possible valentines next year.

Jenn McKee is the entertainment digital journalist for AnnArbor.com. Check out her parenting blog at AnAdequateMom.com, and reach her at jennmckee@annarbor.com or 734-623-2546, and follow her on Twitter @jennmckee.