Posted on
Fri, Dec 18, 2009 : 10:20 a.m.
Holiday prank brings neighborhood together
By Heather Heath Chapman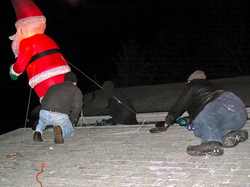 A giant, inflatable Santa Claus lawn ornament.

Last one. Ace Hardware. On sale.
Festive, illuminated fun. Why not? I bought it and stored it away.
When my husband saw it, he asked, "What's this?"
I said, "Eight bucks' worth of cheer."
He examined it skeptically and asked, "For our yard?"
I laughed and said, "Who else's?"
He said, "Let me think about it." Then he said, "Nope." I frowned and asked him why. Next he said words that are neighborhood lore.
He said, "It's just too tacky."
Really? Too tacky? Well, darn. I'm always the last to know about tacky. Very often, I fail to recognize it unless it's pointed out (just like I never know whether clothes make an outfit until someone puts them together on a mannequin).
When I explained this to our friends Tim and Stephanie over dinner one night, they nodded like they already understood this about me. Then Stephanie said, in the way only a best friend can, "If the Santa is too tacky for your yard, it must be pretty bad."
Tim and Stephanie decorate with white lights only.
Every year, on a day that's not so soon it's silly and not so late it's scroogy, they buy a perfectly proportioned natural tree at a reputable establishment. They decorate it with white lights, and they string white lights around the tall pine in their yard, and they hang one tasteful strand of white lights around their front door.
Our house, on the other hand, is a riot of mismatched color. Our Christmas tree—fake, enormous, a bit lumpy after its encounter with a hacksaw—goes up on Thanksgiving Day. There are fat gumdrop lights around the front of the house, and there are tiny lights (some that twinkle, some that don't) along our hedges.
We tease Tim and Stephanie about their decorating style, and they tease us about ours. But, the year I bought that inflatable Santa, my husband decided to take things to a new level.
True to his word, he did not put the Santa in our yard. I found him in the garage one day, examining its limp carcass at arms' length.
He looked slightly crazed when he said, "I know where this is going."
I asked, "Where?"
He answered, "Tim and Stephanie's roof."
Over the years, the tradition has had several different code names, but that first time around, it was "Operation Ho Ho Ho." My husband recruited his buddies from the neighborhood—everyone except Tim—and they met in our den one night, with extension cords and beverages and a plan. They all wore black coats. From the kitchen, I overheard them using terms like "special ops" and "roger that."
They left for Tim's house around 10:00 but came back right away, giggling like teenagers. "His lights were still on!" they howled. "We had to abort!"
(In those days, our kids were very small. Looking back now, I realize that we were desperate for entertainment.)
At 11:00, they left again, carrying Santa, some weights, and a tangle of ropes. Also, a tall ladder. An hour later, they brought back this report:
Tim and Stephanie's lights were finally out. Their trusty dog, Ella, either didn't know or didn't care that four men in stocking caps were climbing on the roof. She didn't bark once. The men were stealthy. Hand signals were used.
They learned several lessons on the roof that night—that plumber's butt is a bummer when the wind chill is below zero, and that a little bit of whiskey makes everything funnier—but above all, they learned that inflatable Santas are called "lawn ornaments" for a reason. Despite mighty efforts, they could not anchor that Santa to the roof. He tipped over again and again. Eventually, the men climbed down the ladder, staked the Santa in Tim's yard, and claimed victory.
I like to imagine Tim's double-take when he glanced out the window the next morning and saw Santa's wide, red backside. I also like to imagine the befuddled look on Stephanie's face when Tim woke her up to say, "Uh, honey? There's a giant blow-up Santa out there."
One year later, my family came home from a holiday party to find the Santa in our own yard, and he wasn't alone. There was another Santa beside him—this one wearing sunglasses, sitting astride an inflatable motorcycle, and holding a banner that read, "Revved Up for Xmas."
My kids burst into applause.
My husband grinned and mumbled a Christmas expletive.
The year after that, our friends Brent and Laura were on deck. By that time, the menagerie had expanded to include a mean-looking Santa driving a stock car, with two reindeer for a pit crew. Also, there was a snowman wearing a hunting vest.
Brent and Laura were tickled and mortified.
They knew, as we all did, what any passerby would believe: The people who live in that house sure must love Christmas. And motorcycles. And auto racing. And hunting. And inflatable decorations.
But, actually, Brent and Laura do not love any of those things. (Except Christmas.)
If their kids hadn't been so besotted with the display, I imagine that Brent and Laura would have dismantled it immediately. Instead, they just unplugged it whenever they could, so that everything lay deflated in the snow.
For the rest of the holiday season, helpful neighbors took turn sneaking into the yard and plugging everything back in.
Most recently, we targeted our friends Jason and Julia, who live just down the street. Once again, there was a preparatory meeting in our den. Once again, a group of educated men—fathers, husbands, professionals—pooled their considerable intelligence to plot the setup of an inflatable holiday display. This year—ho ho!—they would add an iPod and speakers, so that Christmas carols would play constantly.
"And," said Dave, who was new to the festivities, "we should put one of the Santas up on their roof!"
The mood turned momentarily solemn. The veterans shook their heads and said, "Can't be done."
These days, ambush decorating is a family affair. We all congregated on Jason and Julia's lawn to take pictures before they returned home, and we laughed together as we tried to guess their reaction. The dads congratulated each other on another job well done. The kids chased each other in wide circles around the bright, bouncing spectacle.
The wind was chilly, but I felt warm. One eight-dollar lawn ornament had brought us to this—this clear night, this oddball tradition, this community, and these crazy, kind people. Even though my friends were beginning to call out gentle words like "home" and "cookies" and "bedtime," I felt reluctant to leave.
So, I stood for one more moment in the shelter of an inflatable Santa, basking in its glow.