Posted on
Sun, Feb 20, 2011 : 10 a.m.
Allowing adopted children to connect with birth parents can be painful, but models real love
By Heidi Hess Saxton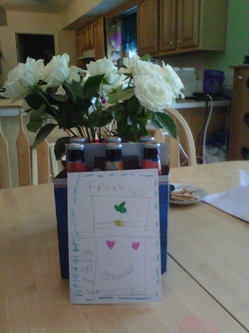 Photo by Heidi Saxton
At our house,
Valentine's Day
can be a feast-or-famine holiday. The "feasts" range from an all-night, chocolate-laden celebration built for two to a family-wide endeavor to find
just
the right expression of sentiment. The famine? "Oh. Right." (Insert self-inflicted head-smack here after coming home exceptionally late from work.) "It's
today!"
This year V-Day had something for everyone. Craig's signature love icon: a dozen white roses, because he knows I love them best. Then came the "I Luv U" Peeps on the children's dinner plates (which, miracle of miracles, they were allowed to consume before dinner). This was followed by my husband's favorite Thai peanut shrimp, which he washed down with his favorite beer, Sam Adams "Octoberfest." (I had squirreled it away in the laundryroom closet last November to be sure I'd have it on hand).

We were just finishing up dinner when Chris got up from the table and returned with something in each hand. "Here. Open this."
Wrapped in notebook paper was a handmade card with a picture of a leprechaun (judging from the three-leaf clover in the hat brim). It read, "Open note first, then look on back." Inside was a large heart with a little "Roses are red" poem, and "I love you" balloons liberally sprinkled throughout.
"Oh, how beautiful! What's in your other hand, Sweetie?" I asked him.
A little reluctantly, I thought, he showed me. An identical card... for his birth parents. "Can we put it in an envelope and mail it to them?"
This is not entirely unexpected; we've allowed the kids to send to and receive from their birth parents holiday and birthday cards in the past. Even so, my heart skips a beat.
In my head, I know it is not uncommon for adopted children (especially those who were adopted at an age that they remember their first parents) to continue to hold a strong attachment, even when their "forever family" includes loving, wonderful parents.
In my heart ... well, I needed a moment. So I quickly hugged my son and sent him to get a large envelope from my office, to give me a few minutes to recover my mommy face. "I just know R___ is going to love this," I told him.
As an adoptive parent, the temptation can be strong to redirect the child's attention in a misguided attempt to win the child's undivided loyalty. After all, we have invested many years in parenting our children — is it really too much to ask that they consider us "real" mom and dad?
Don't worry. Real love — the kind of love that offers oneself freely to another person, and puts his or her needs above one's own — can at times be uncomfortable, or even painful. But it pays rich dividends over time. And the most wonderful thing about real love is that it tends to expand to fill the space provided. The more people your child has in his circle of love, the better off he'll be.
Yes, real love delights in the handmade Valentine... and is generous enough to spring for the stamp for the second one. Not just for the benefit of the other parent (depending on your circumstances, you may well have mixed feelings about them). But because it provides another opportunity to show your child what true love is all about.
Now please excuse me while I go and get that stamp....
Heidi Hess Saxton is an author and a contributing writer for the AnnArbor.com "Parenting" channel. She blogs for parents of adopted, foster and special-needs children at the Extraordinary Moms Network. You can reach her at heidi.hess.saxton@gmail.com