Posted on
Sun, Jun 19, 2011 : 2:12 p.m.
Resisting 'slacktivism,' remembering Vincent Chin, and singing with Joe Reilly
By Frances Kai-Hwa Wang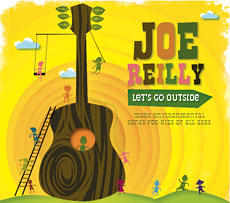 Joe Reilly's new children's album, "Let's Go Outside and Play," more environmental songs for kids of all ages
I recently interviewed for a job launching a new online literary magazine about literature and social justice activism. (The interview did not go so well, but...) What a great idea to link the glamour of novelists and poets with the purpose of social justice activism. This gives literature more weight and meaning, and gives activism more color and style.
Otherwise, social justice activism can be such a downer sometimes.
Don't get me wrong. I am on the Advisory Board of American Citizens for Justice, the original Asian American civil rights nonprofit formed after the baseball beating death of Vincent Chin 29 years ago today.
I am involved with many other nonprofit organizations. I lecture about civil rights and activism. I know this stuff is important.
However, I also get hundreds of emails in my inbox every day, thousands of tweets on my Twitter feed and more posts than I can deal with on Facebook and Linkedin. Sometimes I simply do not want to click on that link, open that email, read that news clip that I know is going to be bad news.
When I was in graduate school, my housemates and I subscribed to the New York Times. I felt so grown up and serious and intellectual. However, the more I knew about what was going on in the world, the more agitated and angry I became, the more compelled to action. I was constantly writing letters to my representatives.
It was such a relief when we finally stopped subscribing. Life was easier not knowing.
Young activists today complain about "slacktivism" or activism for slackers, when clicking the "Like" button is the extent of one's involvement in social issues.
Because I am fortunate enough to have an education and to speak English fluently, I feel a responsibility to help my elders, more recent immigrants, and others who do not have the same advantages. Despite my resistance, I keep trying.
Luckily there are ways to make activism fun and sexy. One way is through the arts. Facts, statistics, and data are important (Sarah Palin), but literature, music, visual and performing arts are able to convey a different sense of story that moves our hearts and stays with us.
Last weekend, I had the pleasure of catching a Joe Reilly concert at Leslie Science and Nature Center. Joe Reilly is a handsome and talented young singer-songwriter who writes and sings about the environment, spirituality and Native American issues to make a difference.
A fabulous environmental educator, the kids love him. Lyrics are always funny and smart: "It's my culture, I'm a turkey vulture."
The children were delightful to watch, parading in their brown braids and blond curls, soccer jerseys and flowery dresses, flowing like water and flying like hawks, around and around the grassy space between the walnut tree and the stone wall featured in "The LSNC Summer Camp Song."
The children learn while they dance, and they carry the lessons with them long after the concert has ended. Even my teenagers still occasionally break out into Joe Reilly songs around the dinner table. At bedtime, 7-year-old Little Brother informs me that he now knows big words like "biodiversity."
Joe Reilly's new CD, "Let's Go Outside," starts, "Video games, they're okay, but I know a better way...won't you come outside with me and play?" It also includes a song about global warming, which would normally be a downer of a topic, but for a chorus like, "Cow farts break my heart," and an unexpected solution tucked in among the more usual ones — to simply smile.
So smile. Sing. Act. Vote.
Note: Today marks the 29th anniversary of the baseball bat beating that led to the death of Vincent Chin and, subsequently, many legal and social changes that affect us all. For more information about the significance of that historic case, check out "Crime Without Punishment: Why the Death of Vincent Chin Resonates Today."
Frances Kai-Hwa Wang is a second-generation Chinese American from California who now divides her time between Ann Arbor and the Big Island of Hawaii. She is an editor of IMDiversity.com Asian American Village, lead multicultural contributor for AnnArbor.com and a contributor for New America Media's Ethnoblog. She is on the Advisory Board of American Citizens for Justice. She team-teaches "Asian Pacific American History and the Law" at University of Michigan and University of Michigan Dearborn. She is a popular speaker on Asian Pacific American and multicultural issues. Check out her website at franceskaihwawang.com, her blog at franceskaihwawang.blogspot.com, and she can be reached at fkwang888@gmail.com.