Posted on
Thu, Dec 10, 2009 : 11:11 a.m.
The Christmas puppy: Good move or good grief?
By Heather Heath Chapman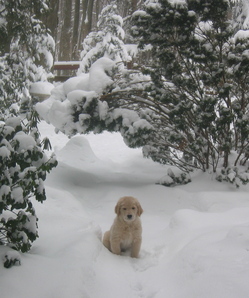 "Nothing says 'Christmas' like poop under the tree."
That's what I said at our last supper club meeting. My friend Laura had just announced that her family would get a puppy for the holidays. The reaction from our crowd was mixed.
Some friends said, "Awwww!" and some friends said, "Hmmm." I—fueled by wine and finger foods—said the thing about the poop. It popped into my head and then out of my mouth—a knee-jerk attempt to push her off a path that, if memory serves, is littered with whining toddlers and chewed-up Christmas ornaments.
But, I shouldn't have been so grinchy.
The Christmas Puppy. When we bought ours, five years ago, it seemed like such a great idea. Why? I can't remember. I know there was a woman selling a litter of wiggling retrievers at a country fair. I know I knelt in the grass and scooped up each puppy, one by one, to kiss every little nose. But things get hazy after that. I was hooked so quickly, and I felt so dopey—the country fair woman might as well have been selling peppermint-flavored crack.
To my husband's credit (he removed me from the scene by force) we didn't buy one of those puppies. But, for weeks afterward, we had puppy-on-the-brain; and when Thanksgiving rolled around, we decided to get a golden retriever for Christmas. For the kids, ostensibly.
Our daughter was six, and our son was two. "They can all grow up together!" I gushed. "Won't it be wonderful?"
The first hour was.
When we picked up little Herbie—my daughter named him after a favorite mascot—he was clean and sleepy, all fluff and feet. We took turns holding him and talking in kiss-kiss voices. We loved it when he tripped over a boot and napped on the spot. We made up dozens of name variations: Herb, Herberto, The Herbster, Herbmeister, Herbivore, The Herbinator, Herbiecakes, Mr. Herbie-head, and, obviously, Herb-a-Rama-Ding-Dong.
But, by the second hour, Herbie wasn't sleepy anymore. By the third hour, my daughter got bored and wandered away. By the fourth hour, it was clear that my son didn't enjoy puppy biting, puppy barking, puppy licking, or puppy bouncing.
By the end of the day, I was coming down from the puppy high.
A sense of understanding settled in, and it felt a little like a hangover. Because—here's the thing—standing in the snow while a puppy weighs the pros and cons of peeing (Here? Maybe here! No, wait! Over here!) really, really blows.
Winter stretched out in a grey blur.
Through the darkest, coldest months of the year, I was—stupidly! I know this now!—potty training a puppy and a toddler at the same time.
There were messes inside, there were messes outside. There were diapers in the nursery, there was yellow snow in the yard. Every week we went through boxes of wipes. Every day was a series of accidents by two little boys who just couldn't get there in time.
And then—ah!—the clouds parted. Just as the weather warmed up, the toddler and the dog seemed to get the hang of the potty thing.
But they couldn't get the hang of each other.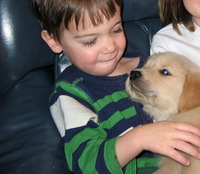 Herbie made it clear almost immediately that he intended to grow into his enormous feet. By the end of March, he'd gone from a fur ball to a big, shaggy dog, and he just kept growing. Our veterinarian called him "The Bruiser." Our son would have given him a more R-rated nickname if he'd been allowed to curse (and if he'd been able to talk).
In the competition over the best toys, Herbie always, always won. He could pull the eyes off of a teddy bear before I could cross a room. He seemed to gravitate toward the things my son loved most, and then he would destroy those things with goofy glee. When reprimanded, he seemed honestly surprised. (What? I shouldn't have eaten that?) When excited, he'd knock my son over with his big, jolly butt.
My son was furious nearly all the time.
That's what I remember when I think back on the puppy years; and that's why I made the poop comment at supper club. But, here's what I should have said to a friend taking the puppy plunge:
"Good idea."
Because, by the time he was two, Herbie had it all figured out. He stopped destroying toys and started simply carrying them, like a toy-delivery dog. He seemed to know, instinctively, that his job was to lie by the fireplace, looking all gorgeous and Eddie Bauer. He stopped growing, and my son kept growing. And, somewhere along the way, they became friends.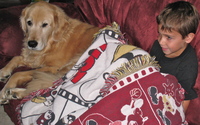 They play together and rest together. They both love sports. Through stomach viruses, Michigan football losses, rainy days, and swine flu, Herbie has been right there, with his big, soft head in my son's lap.
So, I'd been mostly right: It is wonderful to have a dog that's grown up with your children. The puppy path is stained and frayed, but, in the end, it's worth the walk.
To families who are taking that path this holiday season, I say, "Good idea."
Also, "Good luck."
Also, "Bundle up." Because I wasn't kidding about potty training in the snow.