Posted on
Mon, Mar 5, 2012 : 5:54 a.m.
Performance Network tries on 'Dead Man's Shoes'
By Jenn McKee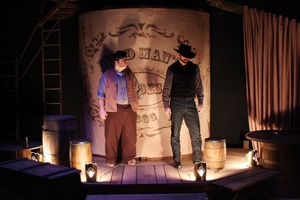 Photo by Chris Purchis
After spending Saturday mornings watching cartoons, playwright
Joe Zettelmaier
—author of "Dead Man's Shoes," now being staged by
Performance Network
—would, as a child, watch movies set in the Old West.
Clint Eastwood flicks appealed to him more than John Wayne's oeuvre did; and when Zettelmaier decided to try his hand at writing a play in the same genre, he did some research, and the second or third item he found online was a story of a former Wyoming governor who'd owned a pair of shoes made from the remains of a lynched outlaw cattle rustler.
"I wish (the play's genesis) was a sexier story," said Zettelmaier. " … But I found that and thought, 'The search is over.'"
Rather than tell the governor's story, though, "Dead" spins a fictional tale inspired by this historical tidbit. Focusing on Injun Bill Picote (played by Drew Parker), who's just escaped prison with a drunk camp cook and Army deserter named Froggy (Aral Gribble), the darkly comic play follows Picote's journey to avenge his friend. But on the way, Picote confronts something long forgotten: his conscience.
And as with most contemporary takes on the Western, "Dead" doesn't sugarcoat or nostalgically glamorize its historical context.
"The more research I did, the clearer it became to me that, it's easy to look at this era from a distance and just think, 'That was a tough time,'" said Zettelmaier. "But the more you look at historical accounts—my God, it was just a brutal, brutal time. We think of these lawless times as an era of complete chaos and recklessness, but what drew a lot of people out was that it was also a time when you could find a stake of land and just take it. So it was this double-edged sword."
PREVIEW
"Dead Man's Shoes"
Who: Performance Network Theatre.
What: Joseph Zettelmaier's new dark comedy, set in the Wild West of 1883, tells the story of an outlaw who escapes prison (with the help of a hard-luck drunk named Froggy) to avenge a friend, only to confront something long-ignored: his conscience.
Where: 120 E. Huron St.
When: Thursdays at 7:30 p.m., Fridays at 8 p.m., Saturdays at 3 and 8 p.m.; Sundays at 2 p.m., March 8-April 8. (Preview performances March 8-15.)
How much: $27-$41. The Thursday, March 8 preview performance at 7:30 p.m. is pay-what-you-can, with a suggested donation of $15 (reserve tickets for this show in advance, as it sells out quickly). Other preview performance tickets cost $22-$32. 734-663-0681 or www.performancenetwork.org.
"Dead" is a co-production of Performance Network and Williamston Theatre, which recently hosted the world premiere; and while in development, the script won a grant in the form of an Edgerton Award.
"The big thing about that, without any doubt, was getting to have an extra week of rehearsal," said Zettelmaier. "You can't—well, I guess technically, you can put a price tag on that, but in larger terms, you can't. It's just so valuable to have that extra time."
Paul Hopper and Maggie Meyers play multiple minor roles in "Dead," and Zettelmaier wrote the lyrics for a song, "The Ballad of Injun Bill," that the two actors perform throughout the show. (Local folk band Potter's Field wrote the song's music.)
But the song came after the script; and if you're imagining the playwright performing terse, Eastwood-esque showdowns in the privacy of his own home during the writing process, you wouldn't be far off.
"That wouldn't be entirely inaccurate," said Zettelmaier. " … This was a little different, though, because I was writing for specific actors that I know well, which made it easier. I knew how they'd deliver certain lines, so it took a lot of the guesswork out of it."
One of the things Zettelmaier is most excited by, though, is the way "Dead" gets laughs while also tackling some "big issues."
"I would never call it a political play, by any stretch," said Zettelmaier. "It's definitely a comedy. But I chose this era in time in part to hold mirror to where we are now—to reflect what we're now wrestling with, and what we're struggling with, as a people."
Jenn McKee is the entertainment digital journalist for AnnArbor.com. Reach her at jennmckee@annarbor.com or 734-623-2546, and follow her on Twitter @jennmckee.