Posted on
Thu, Jan 12, 2012 : 1:05 p.m.
Pioneer Theatre Guild hosts FutureStars 2012 this weekend
By AnnArbor.com Staff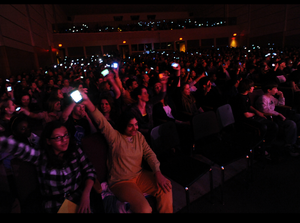 file photo | AnnArbor.com
The most popular local high school talent show around is celebrating its 10th anniversary, as the
Pioneer Theatre Guild
presents FutureStars 2012.
Talented teens from all over Ann Arbor will be singing, dancing, breaking, and rapping in four preliminary shows with different themes in front of an "American Idol"-style panel of judges that includes teachers, alumni, and local celebrities.
In honor of the event's 10 year anniversary, this year's themes include "Best of FutureStars Part 1," on Friday, Jan. 13 at 7 p.m.; "Best of FutureStars Part 2," on Friday, Jan. 13 at 9:30 p.m. (students only); "On Broadway NOW!", on Saturday, Jan. 14 at 7 p.m.; and "On the Radio NOW!" on Saturday, Jan. 14 at 9:30 p.m. (students only). Together, the judges and the audience will choose the best 3 numbers from each show to continue on to the finals (happening Saturday, Jan. 21 at 7:30 p.m.), where one performer will be named FutureStar 2012!
Last year, over 5000 people attended the FutureStars performances, with finals night selling out. This year's FutureStars program is directed by 6 University of Michigan musical theater and dance students: Joel Sparks, Sadie Yarrington, Ashley Park, Dorothy Yarrington, Mary Little and Adam Quinn.
All performances happen in Pioneer's Schreiber Auditorium, at 601 W. Stadium Blvd. Tickets are available at the door 30 minutes before each show. Reserve your tickets early at showtix4u.com for the 7 p.m. preliminary shows and final competition.
For more information, visit www.ptguild.org.