Posted on
Sun, Jan 15, 2012 : 5:38 a.m.
Ann Arbor Symphony celebrating Mozart with works familiar and less so
By Susan Isaacs Nisbett
You can never call the Ann Arbor Symphony Orchestra a fair-weather friend. Year in, year out, whether the Divine Mr. M —that's Wolfgang Amadeus Mozart—is turning 250 (one of those round-number anniversaries the world loves to celebrate) or 256, as he does this year, the orchestra sticks by him with a January Birthday Bash.
This year the orchestra, directed by Arie Lipsky, says many happy returns with two top-of-the-line Mozart works and a little-heard gem that's dear to Maestro Lipsky. It may soon—as in after Saturday's Michigan Theater concert—be dear to local audiences, too, given the high caliber of the orchestra's playing this season.
What's on hand Saturday? Well, it's a variety show, a feat easily accomplished with Mozart, who, even in the realm of instrumental composition, distinguished himself in so many genres.
PREVIEW
Mozart Birthday Bash
Who: The Ann Arbor Symphony Orchestra, with Ran Dank, piano.
What: Annual salute, this year featuring the Piano Concerto No. 27 in B-flat major, K. 595; the "Prague" Symphony, No. 38, in D Major; and the Divertimento in D.
Where: Michigan Theater, 603 E. Liberty St.
When: Saturday, 8 p.m.; pre-concert lecture for ticket holders at 7 p.m.
How much: $10-$55, with discounts for students, seniors, groups and community orchestra members. Through the A2SO, 734-994-4801, and online at a2so.com.
To start with, there's a Divertimento—party music, for sure: this one in D Major, from 1776, was penned to commemorate the 25th birthday or name day of his sister, Nannerl. Unlike Mozart, born on Jan. 27, 1756, she was a summer baby (July 30, 1751); Mozart's musical tribute to her is appropriately warm and sunny.
It's also a special piece for Lipsky.
"In one of my first gigs in a professional setting," he said in a recent phone call, "when I was 14 or 15, we played this piece by Mozart."
The last cello in the section, he was seated near an oboe player whose part—a prominent one—he had pretty much memorized by the end of rehearsals and performance.
"It was much more interesting than the cello part," he said.
Then he forgot all about the piece—until he heard it on the radio two months ago. Faster than you can say presto, it was on the Mozart bill, replacing the "Don Giovanni Overture."
After this tribute from the birthday boy to a birthday girl, the orchestra turns its attention to another sort of landmark work: the last of Mozart's piano concertos, No. 27 in B-flat major, K. 595. On hand to do the pianistic honors is guest artist Ran Dank, a rising star on the keyboard scene who is based in New York City.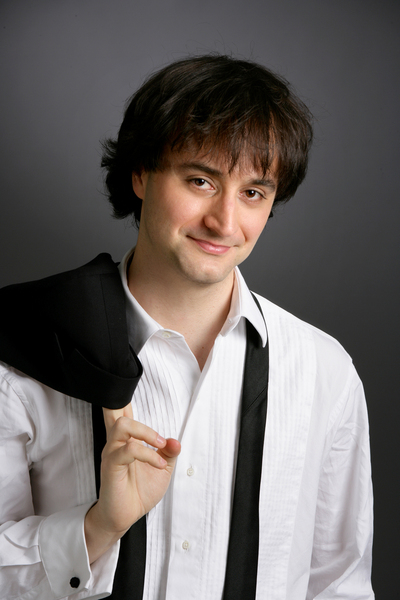 photo by Andrew Cisiak
"It's obviously a very mature, older piece; it's the last concerto in the catalog," Dank said in a phone call from New York.
At the same time, Dank is quick to note that "last in the catalog" for Mozart means he was a mere 35: "He was six years older than me," he said. "It's kind of unfathomable to understand how he evolved and how quickly."
Dank says he has known the concerto for many years, but he has just brought it back into his repertoire. "It's like a new outing," he said. And it is clearly one he is enjoying.
"It has lots of sophistication to it, as a very mature work. But it never ceases to be not just accessible but also fun and filled with the spirit of life. A lot of composers in their later years go to harder-to-reach places. Mozart was different in his writing by then, and this is a slightly more introverted work, but there is so much about the fun element of the concerto and the charming, beautiful melodies we have come to expect from Mozart concertos. I enjoy it tremendously. It has a very special quality to it, being the last concerto, and there is something a little different in the tone, a sort of serenity."
Dank contrasts Mozart with Schubert—similarly young (31) when he died.
"Mozart seems to have retained the spirit of youth," he said. "You don't find that so much in Schubert, who expresses the pain of the end of life. Mozart, even though his life was not simple, remains efferverscent."
The concert closes with a symphonic work that should make for a worthy conclusion to the celebration: Mozart's "Prague" Symphony, No. 38, in D Major, which the composer unveiled in its namesake city in 1787.
The occasion, said Lipsky, was a benefit concert, and Mozart was at the podium to conduct the new work. Lipsky has been having fun, he said, researching the circumstances of that day.
"After he conducted," Lipsky noted," the audience went wild. The musicians left, and he stayed on stage and improvised for about an hour, including on arias from 'Marriage of Figaro.' He wrote to his father the next day that it had been one of the happiest days of his life."