Posted on
Wed, Feb 8, 2012 : 12:51 p.m.
Purple Rose adds Valentine's Day performance of 'A Stone Carver'
By AnnArbor.com Staff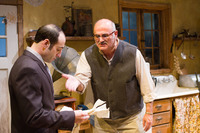 The Purple Rose Theatre Company
announced an added Valentine's Day performance of its current production, "A Stone Carver" by
William Mastrosimone
, on Tuesday, Feb. 14 at 8 p.m. Tickets prices are the weekday rate of $25, with discounts available to students, seniors and teachers.
"A Stone Carver" opened Jan. 27 and has received much acclaim from critics and audiences alike. Julie Brunzell, Purple Rose managing director, said in a press release, "People are really loving the show. They come out of the theater laughing and raving about the acting and the story. We decided to add a Valentine's Day performance to allow people to have the opportunity to celebrate with a date night at the theater. With a run time of only 80 minutes, there will still be time for dessert or a drink after the show."
"A Stone Carver" tells the story of a retired stonemason who clings to the past and his son who refuses to look back. When Agostino, a seventh-generation stone carver is evicted from his home to make space for a highway, he barricades himself in his house, determined to outlast the bulldozers. In a last-ditch effort to save his father from jail, Raff, Agostino's only son, arrives at the house with his new fiancee. A battle of wills ensues, putting their already-rocky relationship to the test. Can Raff convince his father to move forward before it's too late?
Inspired by events in the playwright's own life, "A Stone Carver" was first produced in 1987 at Seattle Repertory Theatre under the title "The Understanding." This production marks PRTC resident artist Rhiannon Ragland's professional directing debut. The cast features PRTC artistic director Guy Sanville as Agostino, Matthew David and Charlyn Swarthout.
Ticket reservations can be made by calling The Purple Rose Theatre Company Box Office at 734-433-7673 or online at www.purplerosetheatre.org.