Posted on
Tue, Mar 27, 2012 : 9:35 a.m.
Purple Rose shares the miracle of a 'White Buffalo'
By Jenn McKee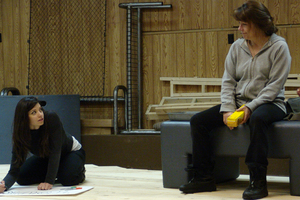 photo by Danna Segrest | Courtesy of the Purple Rose Theatre Co.
Playwright
Don Zolidis
—author of "White Buffalo," now having its world premiere at the
Purple Rose Theatre
—knows that while the truth is often stranger than fiction, it can also sometimes be, well, less dramatic.
Take, for instance, the true story of a Janesville, Wisconsin farm family who, after a rare white buffalo was born on its land in 1994, turned down multi-million dollar offers—from the likes of Ted Turner and Michael Jackson—for the calf, and received visits from Native American spirtual pilgrims and the Dalai Lama. (According to Sioux prophecy, the birth of a white buffalo marks the coming of peace on earth and human unity.)
"There was no question that these people were never going to sell the animal," said Zolidis, who grew up in Janesville. " … And that doesn't make for great drama, if there's no question. So I essentially imagined a family that would need that money more, and I somewhat based (the characters) on the people that were (the real family's) neighbors. Because that was a family that was often in turmoil. … So I moved the miracle next door."
Zolidis wrote "Buffalo" nearly a decade ago, and won a national prize (Princess Grace Award) for it in 2004, which led to its 2006 publication.
PREVIEW
"White Buffalo"
Who: Purple Rose Theatre Company.
What: World premiere production of Don Zolidis' play about a rare, white buffalo born on a Wisconsin farm. Carol Gelling, the farm's owner, soon learns that the buffalo's birth fulfills a Sioux prophecy—the coming of peace on earth and the unity of mankind. Consequently, almost overnight, spiritual pilgrims and a mysterious businessman arrive, and Carol must decide whether the buffalo is the answer to her financial problems, or something else entirely.
Where: 137 Park St. in Chelsea.
When: Wednesdays at 3 and 8 p.m.; Thursdays and Fridays at 8 p.m.; Saturdays at 3 and 8 p.m.; and Sunday at 2 p.m., April 6-June 2. (Discounted preview performances happen March 29-April 5.)
How much: $25-$40. 734-433-7673 or www.purplerosetheatre.org.
"One of the apprentices,
Matt Gwynn
, … would not leave me alone until I read this play," said Purple Rose artistic director
Guy Sanville
, who's directing "Buffalo." "So I took it home one night, … and I laughed and cried and said, 'OK, I want to know more about this writer.' So we called up Don and brought him up from Texas. And we did a reading at the Ann Arbor library that was full of people, and they leapt to their feet at the end, which never happens at readings. So I thought, 'Don is the real deal.'"
Indeed, Zolidis has published more than 40 plays, which have been produced more than 2,250 times in 25 countries; and won two Edgerton Foundation New American Play Awards in 2011 (for "Buffalo" as well as "Current Economic Conditions").
"He's the most prolific playwright you've never heard of," said Sanville.
Zolidis—who began his career as a middle and high school teacher before becoming a creative writing professor who divides his time between Texas and Philadelphia's Ursinus College—has had work produced by small professional companies before, but "Buffalo" marks the biggest production of his work thus far.
And even though Sanville has long wanted to produce "Buffalo" at the Rose, the play's relatively large cast (10), among others factors, caused its premiere to be delayed.
Yet once the play earned a spot in the Rose's lineup, Sanville and his team made a trip to Janesville to visit the site of the real white buffalo birth.
"We met the caretakers of this animal," said Sanville. "We spent 4 hours there, and they opened their home and their farm to us. This woman was the first person I've ever met who turned down millions of dollars. … People would come there and leave things on the fence, until finally, they had to build little museum on the property. … There were Native American things, but there were also things like a little Kermit the Frog that belonged to a boy who died in a fire. … The air was thick with the sense of grief and hope and joy. I was in there 15 minutes before I had to go outside. We were all deeply moved by that whole experience."
Zolidis researched the mythology of the white buffalo while writing the play, knowing that writing about something outside your own experience and background is inevitably a risk.
"It's very tricky, because the meaning of the white buffalo calf is to unite people of all cultures, but the real event took place on a white person's farm," said Zolidis. " … I felt that I was fulfilling a similar role, … in that different cultures have to come together to make this play happen."
Jenn McKee is the entertainment digital journalist for AnnArbor.com. Reach her at jennmckee@annarbor.com or 734-623-2546, and follow her on Twitter @jennmckee.