Posted on
Wed, Jun 20, 2012 : 5:41 a.m.
Purple Rose Theatre will take audiences 'On Golden Pond'
By Jenn McKee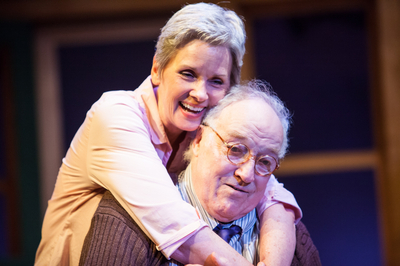 photo by Sean Carter Photography | Courtesy of the Purple Rose Theatre Co.
Ernest Thompson
's "On Golden Pond," now being staged by the
Purple Rose Theatre
, is one of those plays that's permanently haunted by its film version.
"I've had people saying, 'Who's playing Katharine Hepburn?'" said director Michelle Mountain. "… And obviously, we don't have the lake. But it's fascinating to me how many people ask me, 'How are you going to do the swimming scene?' … Well, it's not on stage. It's not part of the play."
The play tells the story of an aging couple who've returned to their summer home in Maine, only to be surprised by a visit from their estranged daughter, Chelsea; her fiance; and his teenage son.
"Sometimes these iconic pieces can get frozen," said Mountain. "Like you're supposed to do (a play) one way, and I think that could be a trap with this piece. But it's so much about family. … The real part of family, which is, not everybody likes each other all the time, people don't understand each other, and people carry things for decades sometimes. … I think that's one of the strengths of the play, actually, is that it does not shy away from the truth about what it takes—the strength and courage and stamina it takes to be a part of a family. … It's not idyllic. It's hopeful. It's positive. But you have to get through the crud and come out the other side."
During the rehearsal process, Mountain and her actors have enjoyed the positive elements of being a kind of family—from the blossoming friendship of the two 14-year-olds (Ian Bejster and Milo Tucker-Meyer) tapped to play young Billy Ray, to the boys being affectionately teased by their would-be step-grandfather (John Peakes) and step-mother (Rhiannon Ragland).
This intergenerational camaraderie has been one of Mountain's favorite parts of the process.
PREVIEW
"On Golden Pond"
Who: Purple Rose Theatre Company.
What: Ernest Thompson's hit play about an aging couple whose stay at a summer home in Maine gets de-railed by the unexpected arrival of their estranged daughter, her fiance, and his teenage son.
Where: Purple Rose Theatre, 137 Park St., Chelsea.
When: Wednesdays at 3 p.m.; Thursdays at 8 p.m.; Fridays at 8 p.m.; Saturdays at 3 and 8 p.m.; and Sundays at 2 p.m. (with some additional performances), June 21-Sept. 1. Previews run June 21-28.
How much: $25-$40. (Discounted preview performances cost $20-$30; and two Ford Friday performances, on July 20 and August 17, cost $17.50.) For tickets, call 734-433-7673 or visit www.purplerosetheatre.org.
"Who gets to hang out with people from age 13 to age 79 for days and days and days at a time?" she said. "We just don't get that. It's such a blessing and a joy for everybody. … I think that's the romance of family."
"Pond" had its Broadway premiere in 1979, and in 2005, University of Michigan grad James Earl Jones and Leslie Uggams starred in a Broadway revival. But the Oscar-winning 1981 film starring Henry Fonda, Katharine Hepburn and Jane Fonda clearly left the biggest cultural mark.
Even so, the gauzy imagery of the Thayers' summer home, and time away from the story, may cause Purple Rose patrons to be surprised anew by what would seem a known commodity.
"I thought the play was one thing, just having heard of it," said Mountain. "I thought it was kind of a sentimental play that a lot of people love about an old guy who is afraid he's going to die. And when I read it, and when we started working on it in production meetings, it was like, oh, no. This play is not about the end. This play is about a goofy kid entering the picture and rejuvenating everybody. Everybody gets a second chance, even Chelsea. … It's kind of a resurrection, in a way."
Jenn McKee is the entertainment digital journalist for AnnArbor.com. Reach her at jennmckee@annarbor.com or 734-623-2546, and follow her on Twitter @jennmckee.