Posted on
Wed, May 18, 2011 : 5:53 a.m.
Rachel DeWoskin returning to Ann Arbor to promote her new novel, 'Big Girl Small'
By Jenn McKee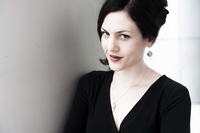 Lots of young girls watch "The Wizard of Oz" and get hooked, wanting to watch the classic movie again and again—and author Rachel DeWoskin's oldest daughter, at age 4, was no exception. Yet while the girl was repeatedly swept away in the technicolor fantasy world of "Wizard," DeWoskin became increasingly fascinated with the actors who played the residents of Munchkinland.
"(My daughter) was parading around the house in her Dorothy costume, and I just started thinking about how easy it always is to identify with the ingenue," said DeWoskin, an Ann Arbor native (and Community High School graduate). "I wondered, 'What if (my daughter) was a dwarf?' … And although she wasn't a teenager, I started to think about what it would be like to be a teenage girl who wants to be Dorothy, but who identifies with the munchkins."
In this moment, "Big Girl Small," DeWoskin's new novel, was born. Set in Ann Arbor, the story focuses on Judy Lohden, an adolescent dwarf with great singing talent. When Judy transfers from Huron High to a local school for the performing arts for her junior year, she hopes to transcend her physical difference.
Sadly, however, the reader knows better from the start, since Judy herself, at the novel's opening, reveals that something horrible has happened, and she's currently hiding from the world in a cheap motel room.
"It started out as a novel about a little person, but ultimately, it became a novel that's more about what it feels like to be a teenage girl," said DeWoskin, who comes to Nicola's Books on Thursday for a reading and signing. "I think all teenage girls feel small at times."
And while some novelists map out the basic plot of novels before they begin, DeWoskin approaches the writing of fiction as an act of discovery.
"I would love to say that I had (the story's climax) in mind beforehand, and that I outlined it all out, and that I'm this super-organized thinker and writer," said DeWoskin. "But I'm not. I just found it as I went along. And I was thinking about this while I've been on tour—when I'm writing, I almost divide into two people: one that's a writer, and one that's a reader.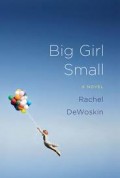 " … All I had was the idea of this girl and what she felt like. Somewhere along the way, I wanted to make her a warrior. My goal was to make her brave and resilient in face of an awful situation that was both plausible and potentially ruinous. I wanted to let her get herself out of it—like teens sometimes manage to do, but they often don't get credit for it."
Unlike Judy, DeWoskin's high school experience at Community—where her mother is still an English and creative writing teacher—was "happy" and "sheltered"; and DeWoskin describes the fictional Darcy Academy as a "love child of LaGuardia High School in New York, where I didn't go, and Community High, where I did go."
In the course of reading the novel, locals will spot dozens of recognizable reference points—from the Brown Jug and Zingerman's to Mt. Brighton—which earned their place in the story by way of DeWoskin's own familiarity with them.
"I set the story in Ann Arbor as an homage, because I love Ann Arbor, but also partly because geography is difficult for me," said DeWoskin. "I have a really bad sense of direction, so I always set my books in places where I've spent lots of time. My first book, 'Foreign Babes in Beijing,' was about Beijing, where I spent my 20s. My second book, 'Repeat After Me,' was set in Beijing and New York, where I've lived for years. … I need to know what places look like and feel like when I write about them."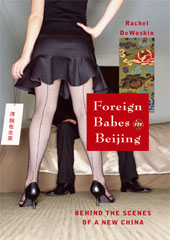 Currently, DeWoskin is working with her playwright/screenwriter husband,
Zayd Dohrn
, to write a pilot for an HBO television series based on her first book—a memoir about DeWoskin's experience of moving to China at age 21, after earning a degree in English at Columbia University, and finding herself starring in a nighttime Chinese soap opera called "Foreign Babes in Beijing." (The book was originally optioned by Paramount Pictures, but when nothing came of it, and the rights became available, HBO picked them up.)
The "Babes" pilot-in-progress marks DeWoskin's first foray into television writing, but her genre-jumping past—in addition to her memoir and two novels, Dewoskin earned an MFA in poetry from Boston University—leaves her more electrified than nervous about the venture.
"I find writing in all three genres hugely exciting and very comforting," said DeWoskin. "And I think the kind of precision that's necessary for poetry helps my fiction and nonfiction, and helps keep my prose restrained and, hopefully, metrical. In fiction, you have the necessity for a propulsive plot, and I think that idea helps keep my poetry from becoming stagnant. And I think of nonfiction as a truth-seeking mission, which all writing should be. … So they all inform each other, but they're different enough so that I can go about writing, even if one genre is stonewalling me on a given day."
To prepare to write "Babes"' pilot, DeWoskin has been reading many screenplays, as well as carefully watching HBO programs like "The Wire" and "The Sopranos." So far, she finds television writing similar to poetry writing, in that the authors must "shave things down to their essential components," and she's enjoying the practice of thinking about extended story arcs for characters.
But DeWoskin also teaches, and she's now traveling to promote "Big Girl Small," with her two young daughters (ages 6 and 3) in tow.
"They've made me very disciplined and inspired, and they force me to live in the world in the present tense," said Dewoskin. " … It's a busy life, logistically, when you travel like I do. … But they provide me with clarity, even when things are chaotic."
Rachel DeWoskin will appear at Nicola's Books, 2513 Jackson Road in the Westgate shopping center, at 7 p.m. Thursday for a reading and book signing.
Jenn McKee is the entertainment digital journalist for AnnArbor.com. Reach her at jennmckee@annarbor.com or 734-623-2546, and follow her on Twitter @jennmckee.