Posted on
Thu, Mar 8, 2012 : 10:21 a.m.
RFD Boys' fiddler and founder Dick Dieterle remembered for more than just his musical skills
By Roger LeLievre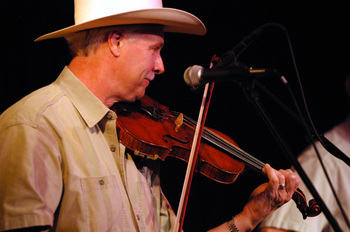 Richard "Dick" Dieterle
, founder of the popular, longtime local bluegrass band the
RFD Boys
, is being remembered this week not only for his talents as fiddle player, but also for his outstanding abilities fronting the group as its MC.
"I think if you talk with the fans, the first thing they will mention is his dry wit and comedic timing," said Charles Roehrig, RFD Boys lead singer and guitarist.
"And if I had to pick one reason we have managed to keep an audience in the same town for 42 years, it would because we had a show to go along with the music. … Dick was the focal point and catalyst."
Dieterle died after a difficult battle with cancer at his beloved Ann Arbor Township farm on Feb. 28, surrounded by family and friends. A memorial was held recently at Webster Church in Dexter, where every year the RFD Boys played at the church's Fall Festival. Symbolically, the fallen musician's hat, boots, fiddle, bow and case were propped in an empty chair on the chancel stage.
"It was a lovely ceremony—the only thing I missed was I didn't get to talk to him about it the next day," said mandolinist, fiddler and fill-in RFD Boy David Mosher. "He would have dug it. It was short and sweet and perfect and beautiful in a quaint, lovely family church."
Dieterle's last contribution to the art form that he loved was an instrumental bluegrass CD of his own compositions, which was completed just days before his death.
"He will be remembered as an extremely gifted fiddler—fast and clean. But in the long run, if his CD of original fiddle tunes just completed gets the exposure it deserves, he may well be remembered best for his compositions," added Roehrig.
Diagnosed with cancer last fall, Dieterle was able to continue playing until recently. At an Ark show Feb. 17, his health had deteriorated to the point where he was only able to watch from the sidelines. Still, it was a way for his bandmates and fans to say goodbye.
"He was there, unable to play, and I purposely learned some of his tunes to play for him to show him there was a legacy and it would go on," Mosher said. "It was like a living eulogy, that he was there in his wheelchair, able to comprehend in every way."
Dieterle's death has hit home at The Ark, where the RFD Boys played so often the past 20 years they were sometimes called the club's "house band."
"I can't begin to measure Richard's impact on the music, The Ark, the people who knew him," said Marianne James, executive director. "He was incredibly generous, both as a musician and a music patron. Of course when you think of him, you think of the RFD Boys and of him standing tall, bowing his fiddle with the same grace whether playing a hymn or raucous tune, or spinning some tale at the expense of one of his bandmates.
"Every one of those guys is dear to us, so losing Richard is losing family. But he left us with reams of memories, and a lot of great music, including one final CD of his own fiddle tunes that he recorded not long before he left. The music was so important to him; he just kept it coming, to the last. I can't tell you how much we'll miss him," James added.
Prior to setting up shop at The Ark, the RFD Boys played at the long-defunct Pretzel Bell downtown four nights a week for about a dozen years, as well as at Mr. Floods Party and Lums.
Mosher said that he considered Dieterle, whom he met 23 years ago, his musical mentor.
"We adored him. In some ways he's the hardest one to replace because he started the RFD Boys, and it was through him that band lasted 42 years," Mosher added.
"He was a big personality. The first time I met him he was sitting at the head of a table of 20 people—there he was literally holding court, the center of this wonderful entourage of RFD Boys and people who were fans and friends and people who hung out together. I think of him that way—the impresario of the RFD Boys and, as the title of his service read, (someone who had achieved) 'A Well-Lived Life.'"
Not only was Dieterle an accomplished musician, he was also a doctor and a community leader. Born and raised in Ann Arbor Township, Dieterle graduated from the University of Michigan Medical School in 1969, the same year he started the RFD Boys. He also served as a major in the United States Air Force (1973-75), worked until his retirement in 2009 at Allegiance Healthcare System in Jackson (where he was director of pathology) and spent many years as an Ann Arbor Township fireman, township constable and township trustee.
Despite the loss of a key player, the RFD Boys—which also includes Paul Shapiro on upright bass and high harmonies and Willard Spencer on banjo, Dobro and baritone vocals—will continue.
"Paul and Willard and I avoided even thinking about this while Dick was still with us—and he was playing up a storm with us all the way through December at the Ark," Roehrig said. "But we have started talking about it and we all want to keep playing. We are lucky to have friends, like the multi-talented David Mosher, to help us out. So I think our future may be best described as RFD Boys and friends."
A concert to mark the official release of Dieterle's solo CD is planned for The Ark; however, a date has yet to be determined. Meanwhile, It was Dieterle's wish that memorials in his name be made to The Ark or to the Webster Township Historical Society.