Posted on
Sun, Feb 10, 2013 : 5:13 a.m.
30 remembrances after 30 years in the radio business
By Martin Bandyke
Feb. 21 will mark my 30th anniversary as a radio host, with those first 23 years at WDET-FM in Detroit and the subsequent seven right here on ann arbor's 107one (WQKL-FM).
While I love and respect the past, I have to admit I focus far too much on what's new, musically speaking. I sometimes feel like a shark in that respect, always on the lookout for fresh auditory food, if you'll forgive that tortuous analogy. But I'll admit I've been getting pretty nostalgic as I look back at my first year as a DJ, when all we had in 1983 were turntables for playing tunes and (believe it or not) 8-track cartridges for playing pre-recorded promotional and underwriting announcements.
So in the spirit of Marcel Proust's "Remembrance of Things Past," here are 30 significant events I witnessed, took part in, listened to—or all of the above—in that magical year of 1983. You better believe I was playing music on the radio by all the artists I was seeing in concert back then, just as I do now.
As the song "Transmission" by Joy Division implores: "Dance, dance, dance, dance, dance to the radio."
1. 2/21: Ralph Valdez and I became permanent hosts of the Dimension program on WDET-FM. The program was founded and originally hosted by musician Charles Moore, a jazz trumpeter and flugelhorn player who appeared on the MC5's third album "High Time."
2. 2/27: Gang of Four play in Windsor, Ontario.
3. 3/4: Boy George's Culture Club play at Detroit's St. Andrew's Hall.
4. 3/20: Boston's Mission of Burma play at Detroit's City Club.
5. 3/25: The Birthday Party, featuring singer-songwriter Nick Cave, play at Traxx in Detroit. The show reminded me of a multi-vehicle car accident. Loud, scary, even horrifying at times, but I couldn't look away.
6. 3/29: Lene Lovich (of "Lucky Number" fame) plays at Bookie's in Detroit.
7. 4/10: The English Beat, with opening act R.E.M. (!) play at the Grand Circus Theatre (now the Detroit Opera House).
8. 4/13: David Bowie's "Let's Dance" album comes out in stores.
9. 4/15: The Stranglers play at St. Andrew's Hall in support of their new album "Feline."
10. 4/11: The Fall, led by the irascible vocalist Mark E. Smith, play at Traxx.
11. 4/24: Martha and the Muffins play at St. Andrew's.
12. 5/2: New Order's "Power, Corruption & Lies" album is released.
13. 5/7: Simple Minds play at St. Andrew's.
14. 5/9: Ralph and I raise a whopping $1,080 during our first fundraising show at WDET.
15. 5/13: Lydia Lunch at the Red Carpet in Detroit.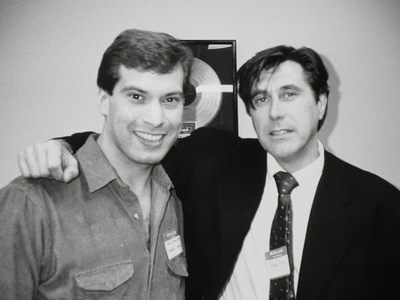 16. 5/15: Roxy Music at Cobo Arena.
17. 6/6: Talking Heads release "Speaking in Tongues."
18. 7/2: Ralph and I interview New Order behind St. Andrew's Hall before their first-ever concert in Detroit.
19. 7/22: Eurythmics play at the Ritz.
20. 7/29: The Police at Joe Louis Arena.
21. 7/31: Peter Gabriel plays at Pine Knob.
22. 8/5: The Gun Club plays at Paycheck's.
23. 8/11: Talking Heads play at Pine Knob.
24. 8/23: Elvis Costello and the Attractions play at Pine Knob.
25. 8/25: The Stickmen play at Joe's Star Lounge.
26. 10/14 Magazine's Howard Devoto plays at St. Andrew's Hall.
27. 11/7: The Rolling Stones' "Undercover" album is released.
28. 11/17: Jim Carroll performs at the Detroit Institute of Arts.
29. 11/14: Hunters & Collectors play at Todd's in Detroit.
30. 12/3: Pere Ubu's David Thomas plays at St. Andrew's Hall.
And speaking of New Order, I'll interview the band's bassist Peter Hook on my 30th anniversary program. That'll be February 21 from 6-10am on ann arbor's 107one. Thanks for listening all these years!