Posted on
Thu, Feb 2, 2012 : 11:40 a.m.
'A Dangerous Method' is more talky and meandering than dangerous
By Ryan Levin
There's never a point in David Cronenberg's new film "A Dangerous Method" where the movie really seems to figure itself out.
Sure, the subject matter is clear. The movie—which is based on screenwriter Christopher Hampton's 2002 play "The Talking Cure," which in turn is based on John Kerr's 1993 nonfiction book "A Most Dangerous Method: The Story of Jung, Freud and Sabina Spielrein"—deals with the tumultuous years and souring relationships between Sigmund Freud, Carl Jung and Sabina Spielrein during the formative pre-WWI decade of the psychoanalytic method.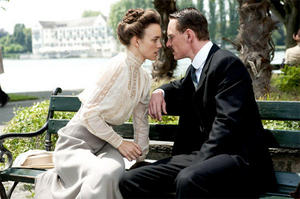 But Cronenberg's tremendously talky and intelligent, if at times oddly conventional (for Cronenberg), movie doesn't settle long on any one theme or through-line.
Is it about the early development of psychoanalysis? Spielrein and Jung's illicit affair? Jung and Freud's gradual professional falling out? Spielrein's probably quite substantial and oft uncredited contribution to psychoanalysis? Jung and Freud's conflict over the inclusion of religious and metaphysical studies into the method? The psychological ramifications of repressing your sexual desires?
"A Dangerous Method" shuffles its focus around like a scatterbrained and rambling patient. Consecutive scenes in "A Dangerous Method" seem to have been plucked from similar but distinctive movies. One sequence shows Freud (Viggo Mortensen) and Jung (Michael Fassbender) boarding a passenger ship across the Atlantic to attend a talk on psychiatry in America. Freud leans against the deck rail next to Jung, wondering ominously and (one would think) portentously to the Statue of Liberty "do they know that we're bringing them the plague." They being the Americans. The plague being the theory of psychoanalysis that shocked its contemporaries with graphic sexual explanations of every foible and neurosis of the human mind.
But nothing comes of it. Literally the very next scene, Jung is back in Europe visiting a spurned Spielrein (Keira Knightley) and Freud has vanished from the narrative, only to appear again later when the movie turns to exploring a series of testy hand-written correspondences and a couple terse office-visits between Jung/Spielrein and Freud, ever puffing on his cigar.
This happens again with Otto Gross (Vincent Cassel), a fellow psychoanalyst and eventual outcast of Freud's inner circle. Gross shows up in Jung's hospital as a patient at Freud's request and becomes the angel/devil on Jung's shoulder questioning his beliefs on the importance of repression in a civilized society before Gross disappears over the hospital wall and is never being heard from again.
It may seem like fairly benign subject matter for Cronenberg, who is better known for his works in the cinema of body horror (Videodrome, The Fly, Crash). But on closer examination, "A Dangerous Method"'s focus of people so afraid of their own bodies that it contorts and disfigures them psychological is in the same vein as his earlier movie where characters innermost fears and desires manifested as growths and mutilations to their physical form.
If only it had been done in a more gripping movie.
The acting really adds a majority of the meat to the story, which is a credit to Cronenberg and his actors. In descending order of riveting performances: Viggo Mortensen really astounds as Sigmund Freud, a role I would have never thought he could be so well cast for; Keira Knightley embodies psychological repressive terror with a laudably well-acted Russian accent that manages to capture and maintain the intensity and brilliance of her character through the entire movie; and Michael Fassbender is studied and intense as the passionate and conflicted Carl Jung, but he doesn't quite break through his role the way his colleagues do.
"A Dangerous Method" is perfectly enjoyable, if a bit tame compared to the levels of Freudian aberration to which it could have reached, and a bit all over the place to work as a cohesive narrative about sex and psychology in the time of Freud, Jung and Spielrein.
Check out last week's review of Steven Soderbergh's "Haywire" here on annarbor.com
Did you see "A Dangerous Method?" Drop a comment if you agree with my analysis or think I'm way off. I'd love to hear what people would like to see reviewed for next week.
Ryan Levin is a film and television blogger and a graduate of the University of Michigan's Screen Arts and Cultures program.