Posted on
Sun, Mar 13, 2011 : 5:09 a.m.
Piano soloist Roman Rabinovich adds electricity to Ann Arbor Symphony's superb Saturday concert
By Roger LeLievre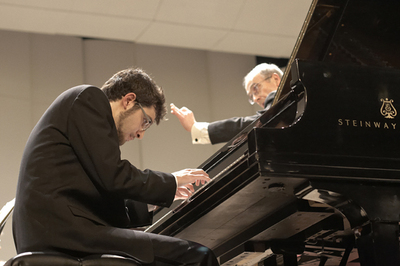 courtesy of the Ann Arbor Symphony Orchestra
At a pre-concert lecture, Ann Arbor Symphony Orchestra guest soloist Roman Rabinovich seemed a little bit uncomfortable behind the microphone. Just the opposite was true when the 25-year-old pianist took his place at the Steinway Saturday night. His performance of Rachmaninoff's Piano Concerto No. 3 in D minor was electric.
To say the Israeli pianist — winner of the Arthur Rubinstein International Piano Master Competition three years ago and a long-time acquaintance of A2SO conductor Arie Lipsky — brought the house down would probably be an understatement. Rabinovich — displaying impressive self-confidence — delivered a performance that was focused, emotional, strikingly nuanced and superbly executed.
Not only is the work difficult for the soloist (and Rabinovich performed it sans score), it is also a challenge for the symphony, full of tempo transitions which the A2SO handled with aplomb.
Returning to the onstage for multiple curtain calls, Rabinovich offered two short encores — a work by Scarlatti and a deftly executed sampling from Stravinky's Petrushka. The thing about Rabinovich is that he made his performance look ridiculously easy. The novice young piano student I may have been years ago was insanely jealous, but the adult music lover I've evolved into was delighted and enthralled.
The evening started off with the infectious Overture to Ruslan and Ludmilla by Mikhail Glinka. The work is based on mythology, with fairies and magic spells, and it was easy to see their influence at work, the cellos and brass chasing each other playfully and the rest of the strings joining the frolic. Enchanting.
Prokofiev's Symphony No. 5 in B-flat major rounded out the evening. At first it felt a little anti-climactic after Rabinovich's performance, but soon I found myself reeled in by the percussion (woodblocks, snares — the works), the momentum that built and built to a triumphant crescendo in the second movement (strings and woodwinds, take a bow) and the amazing cello choir in the third. I always love the musical nod to Beethoven's Moonlight Sonata in this work, along with a bit of the composer's Romeo and Juliet, which are always fun to notice.
An insert in the program offered a sneak peak at the 2011-2012 season (a program that includes local composer William Bolcom's "Ragomania" Sept. 17, a Beethoven Festival Oct. 22, and a performance of Carmina Burana April 21 in Hill Auditorium), and subscribers could be seen signing up at intermission. And why not? Saturday night's program was the best reason anyone could possibly need for supporting this superb Ann Arbor ensemble.