Posted on
Tue, Jan 24, 2012 : 9:02 a.m.
Denis Matsuev offers amazing solo recital at Hill Auditorium
By Susan Isaacs Nisbett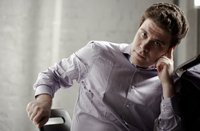 They say that piano virtuosos, players with technique to burn, are becoming more and more common these days. All I can say is they still don't make many like
Denis Matsuev
, whose solo recital at Hill Auditorium Monday evening, under University Musical Society auspices, drew a rapturous rock-star response from old and newly minted fans of this 36-year-old Russian phenom steeped in the Russian tradition of pianism.
Technique—well, let's just say that Matsuev can probably do anything. As he amply demonstrated in both the closing piece on his program, the devilishly difficult Stravinksy "Three Movements from Petrushka," and the last of his four encores, an extended jazz improvisation as fabulous as it was surprising as an end to a classical concert. (The other encores were Liadov's "The Music Box," Shchedrin's "Humoresque," and Chopin's "Butterfly" Etude.)
But beyond technique, the concert showcased an artist who can put the depth and plushness of his sound to as good use in crystalline, intimate moments as in bravura ones, and a pianist whose melodic gifts sing out in the most difficult circumstances. Before his concluding "Petrushka," Matsuev offered three 19th century sonatas, the Schubert Sonata No 14 in a minor and the Beethoven "Appassionata" in the first half; and the Grieg Sonata in e minor, Op. 7, to begin the second half.
The first two sonatas were tantalizing, if not always completely engaging.
Matsuev opened the Schubert with an otherworldly sound, and his approach to the first movement's lyrical theme realized its heart-stopping qualities. But his pedaling, very grand and Romantic, obscured some of the clarity in his fingers; less would have been more here, and might have brought the work closer to the listener.
His "Appassionata," by contrast, had admirable clarity, and lots of fire and facility (and ultimate speed in the coda of the last movement). But if it was admirable, it was curiously ungripping—the flames danced brighter than the heat.
When Matsuev returned to the stage post-intermission, the concert really took off. His Grieg was dramatic and riveting from first note to last. The playing was impassioned and articulate, wondrous for its dark colorations, its endless flow, its speaking legato.
And then came Stravinsky, where he gave us all that and way more. Matsuev strode back to the piano to begin it like a man possessed. For color, for delicacy, for riotous cacophony, for voicing of chords that others would simply be content to play at speed, it was a marvel of pianism and scene-setting. Melodies surged forward against the odds, rhythmic gestures were thrillingly propulsive. When Matsuev dealt the final blow to poor Petrushka, the energy propelled him from his seat. The audience was just as quick to rise to applaud him.