Posted on
Sat, Jan 21, 2012 : 2:10 a.m.
This 'God of Carnage' is blessed at Performance Network
By Jenn McKee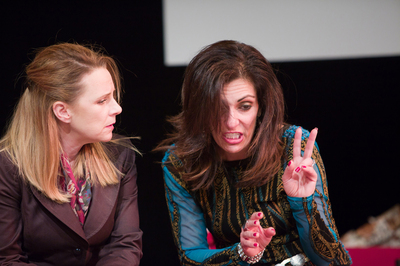 photo by Sean Carter | courtesy of Performance Network
To convey what being part of a war is really like, and thus get to the heart of what he calls "a true war story," author and Vietnam veteran
Tim O'Brien
often exaggerates situations (while also deliberately blurring the line between fiction and nonfiction) in his war-themed work.
Yasmina Reza's "God of Carnage"—which formally opened Friday in an outstanding production at Performance Network—works in a similar fashion. While couched in the familiar, the play takes us farther into the domestic heart of darkness than most of us would actually go in real life. Yet as O'Brien's work demonstrates, watching things unravel in an over-the-top manner is sometimes the only way we can access, and thus digest, the ugliest kind of ugly truths.
In "Carnage," two sets of parents meet to talk about a playground fight that's just occurred between their young sons. Veronica (Sarab Kamoo) and Michael (Joey Albright), whose son Henry lost two teeth in the altercation, play host to Alan (Phil Powers) and Annette (Suzanne Regan), whose son Benjamin had been excluded from Henry's "gang."
"They haven't mastered the art of coexistance," one character says of the boys. But have the parents?
At first, it appears the answer is "yes." Despite the fact that Alan, an attorney, takes calls on his cell phone every few minutes, the four seem determined to approach the situation with civility and measured thoughtfulness. But then, with just the smallest push here and there, the discussion escalates into a heated argument that features shifting allegiances, screaming, puking, drinking, tackling, flower-throwing, and hysterical jumping. So while "Carnage" is a decidedly adult play, it showcases four adults who regress into childish behavior.
And boy, does this production have the right people for the job. This well-oiled theater machine of an ensemble, expertly guided by director David Magidson, plows through the show's 90 minutes with energy and skill to burn. (It helps that, as a co-production that's already had a run at the Jewish Ensemble Theatre, "Carnage" is now probably hitting its stride.) Albright's Michael is a seemingly tough, self-made businessman whose surprising fears and prejudices rise to the surface; Regan's Annette is a fragile, apologetic woman who finds her anger and, in turn, her voice; Kamoo's Veronica is strong-minded and principled, but also sanctimonious; and Alan, for all his faults, is what he appears to be from the start: a man who always thinks he's the most important guy in the room, and that parental hand-wringing is a pointless exercise.
Set designer Monika Essen makes Veronica and Michael's black, white, and red living room fittingly sterile-looking, self-consciously artistic, and theatrical—a domestic stage where these characters can play out their roles before throwing off their masks. Christa Koerner helps define the characters—and what they want to project about themselves—through costume design; and Daniel C. Walker designed the show's lighting, which most notably provides a visually stirring final moment.
In that last scene, a parent comforts a child by phone, telling a string of what the other characters, and the audience, know to be lies, which raises the question: when our children are upset and we lie to them, do we do so for them—to protect them—or are we simply protecting ourselves?
For although the parents in "Carnage" initially, tentatively spar with each other because of their sons, the fight quickly reformulates—thanks to every parent's identity being inextricably tied up in his/her child's—and focuses instead on the parents' marriages, fears, unflattering traits, and shortcomings. In this way, "Carnage" centers on an intensely personal war, where the thing at stake is each person's sense of him/herself.
And as O'Brien wrote in "The Things They Carried," "A true war story is never moral. It does not instruct, nor encourage virtue, nor suggest models of proper human behavior, nor restrain men from doing the things men have always done. If a story seems moral, do not believe it."
"God of Carnage" continues through Feb. 19. For tickets and more information, see the Performance Network website.
Jenn McKee is the entertainment digital journalist for AnnArbor.com. Reach her at jennmckee@annarbor.com or 734-623-2546, and follow her on Twitter @jennmckee.