Posted on
Fri, Jan 27, 2012 : 1:35 p.m.
Soderbergh's 'Haywire' is like strong punch at a lame party
By Ryan Levin
There's a moment in one of the first scenes of Steven Soderbergh's new punches-and-espionage thriller "Haywire," when the director is setting up a rescue operation for the audience with a montage of an important-looking series of images and diagrams tacked onto a bulletin board.
In one shot there's a yellow Post-It note taped next to a photo of a stern and balding man standing outside an apartment building. It reads, simply and plainly, "Bad Guy #1."
As viewers we don't know it yet, but with this simple description, Soderbergh isn't just delineating his antagonists, he's telegraphing the narrative tone of his entire, brisk hour-and-a-half movie: thin, frugal, barely-there storytelling with minimal expository detail leading from one well-choreographed fight scene to the next.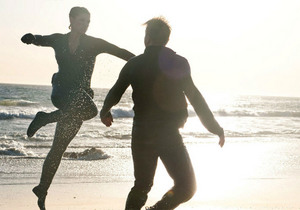 "Haywire" is about a private securities firm contracted for a simple extraction job in Barcelona, which is reality all an elaborate ruse to double-cross one of its agents, played by
Gina Carano
. Carano is a retired mixed martial arts fighter and a former American Gladiator. She's an imposing physical presence and a brutal fighter. As hard as her punches are, she's not a strong dramatic actor, nor does she really have to be. She plays a very calm, cool and determined action hero, a women on the lam who is out for answers and revenge (though not necessarily in that order).
Actually, it isn't really accurate to say the movie just stars Carano. "Haywire" was made for Carano after Soderbergh stumbled upon one of her MMA fights on TV. He called up former screenwriting collaborator Lem Dobs (of "The Limey") and together they pounded out a script where Carano would be, in a sense, a general, de-gendered action hero.
Soderbergh didn't want to treat Carano's character the way women usually are depicted in action movies. To his credit, he didn't want to treat her any differently than the standard male action movie protagonist, which is not something he felt had been done in modern action movies. That's probably why the film's original working title, "Knockout," was changed to "Haywire," as the clear double-meaning behind the original title is that she throws a knock-out punch to go along with her knock-out looks.
Though really, "Haywire" isn't a particularly accurate title for the movie either. Gina Carano's character, Mallory Kane, is stoic and self-assured, rarely showing any emotion beside eyes burning with anger during or before a fight. At no point do we see her lose control, flail about chaotically or act in any erratic or irrational manner, as the word "haywire" might imply. And her actions are really all that we have to go on to figure her out because the story and dialogue are paper thin.
"Haywire" is chock full of ambiguous but spy-movie sounding terms and references. It comes with the obligatory exotic locales but never any reason why things have to be happening there. In Barcelona, the covert ops agents are rescuing a dissident Chinese journalist from captivity. But from whom? Why was he being held? Who wants him rescued? Why do we care? If these things were mentioned, I missed them, because any explanations are just generic fodder for advancing the film onto the next great fight scene.
There's a welcome helping of Soderbergh's aesthetic style in "Haywire" (the opening shot gave me high expectations that the rest of the movie quickly dashed). It's certainly stylish but it's as cool and distinctive in some parts as it is watery and generic in others.
Every fight scene in "Haywire" is like a sip of a satisfyingly strong drink at an otherwise lame party. I knew what I was there for the strong punch, but the conversation around it is so bad that I felt like I was left starring bored into an empty cup before the movie contrived to bring another delightful bit of combat choreography back my way.
"Haywire" was a well-intentioned misfire on the way toward Soderbergh's impending retirement next spring. In the interim, we have three more films of his on their way. Let's hope for more "Contagion" and not quite so much Gina Carano punching Hollywood A-Listers with weak lines in the face. Or maybe that's why she was punching them.
Ryan Levin is a film and comedy blogger and a graduate of the University of Michigan's Screen Arts and Cultures film program.