Posted on
Sun, Apr 28, 2013 : 5:24 a.m.
Iggy & the Stooges back in fine form on new album 'Ready to Die'
By Martin Bandyke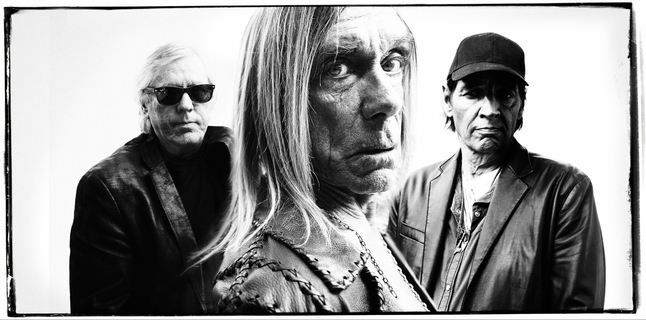 photo by David Raccuglia | courtesy of Fat Possum Records
A mood of mortality permeates much of the new
Iggy and the Stooges
album "Ready to Die" (3 out of 4 stars, out Tuesday on Fat Possum Records), a feeling that extends way beyond the album's fatalistic title.
There's a lot of rage against the dying of the light on Iggy Pop and company's fifth studio effort, the first since the passing of founding Stooge guitarist Ron Asheton in 2009. James Williamson, who gave up music for decades after playing on the band's sensational 1973 album "Raw Power," returned to the Stooges after Asheton's death and has a major role on "RTD." He produced the album, co-wrote all its songs with Iggy and is the sole guitarist throughout the too-short, 10-song effort. Other main contributors include founding member Scott Asheton, Ron's brother, rock-solid as always on the drum kit; saxophonist Steve Mackay, whose history with the group dates back to their 1970 sophomore release "Fun House"; and Mike Watt, who admirably fills the shoes of founding Stooge bassist Dave Alexander, who died in 1975.
Initial standouts on "Ready to Die" include "Sex & Money," led by a wall of Williamson's guitars and Mackay's greasy, funky horn riffs; and the raucous "Job," replete with its kiss-off lyric, "I don't wanna talk to my coworkers/I think they're a bunch of dumb c***-jerkers." Iggy (James Osterberg) Pop may have just turned 66, but he remains as impulsive and outspoken as ever, bless his soul.
Unimpressive is "Unfriendly World," a leaden misfire with out-of-place Latin percussion, and the breast-obsessed "DD's" is rather puerile—even for Iggy—but Ann Arbor's hometown heroes quickly regain their footing and close out the album with two superb songs: "Beat That Guy and "The Departed."
Both have unusually serious lyrics ("Running out of time," 'You lay down the law or lay down to die," "This nightlife is just a death trip") and truly unusual instrumentation for the Stooges, including violin, pump organ and electric lap steel guitar.
An early incarnation of "The Departed" was sung by a very emotional Iggy Pop at the Ron Asheton tribute concert held at the Michigan Theater in April of 2011. Reflective ballads unlike anything in the Stooges catalogue, these closing tracks are powerfully moving statements about life and loss.
Overall an excellent addition to the Stooges catalog, "Ready to Die" raises this question: Are the Stooges ready to play in Michigan again soon? The band's itinerary currently includes some European dates this summer along with one U.S. gig in California, although Iggy tells Rolling Stone magazine to look for New York and Chicago dates this fall.
Listen to the Stooges' "Burn" from Soundcloud:
Martin Bandyke is the 6-10am morning host at Ann Arbor's 107one, WQKL-FM. Follow him on Facebook, Twitter and at martinbandyke.com.