Posted on
Thu, Feb 23, 2012 : 9:58 a.m.
Wynton Marsalis, Jazz at Lincoln Center Orchestra make up for lost time in exciting Hill Auditorium show
By Will Stewart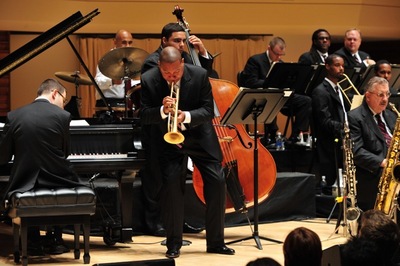 Absence makes the heart grow fonder, and the
Jazz at Lincoln Center Orchestra
's two-year lag in visiting Ann Arbor resulted in a heartfelt reunion between the band and an adoring Hill Auditorium audience.
The 15-man band and its leader, trumpeter Wynton Marsalis, swung through a 90-minute performance that leaned heavily on Marsalis' too-often-overlooked book of compositions—and that found room for everyone in this remarkable band to shine.
"We've played here so many times and it's always great," said Marsali,s who is celebrating his 50th birthday during the orchestra's current tour. "We were snowed out last time, so it's extra special to be here tonight." (The band had to cancel an engagement last winter after a heavy storm stranded them in Canada.)
JALCO made up for lost time on Wednesday, surveying the history of jazz styles, from Dixieland to swing, cool jazz to bebop—sometimes within the course of a single number.
And, of course, it swung like mad.
Marsalis' oeuvre served as a springboard for an evening of stunning solos that came from all parts of the bandstand. With the composer as often as not watching from the top riser, the members seemed to take a particular joy in bringing his music to life under his watchful eye.
Marsalis clearly enjoys writing for the larger ensemble and, with a band of world-class players, who wouldn't. His arrangements spread the love around, making everyone a soloist, while steeping the individual turns in rich harmonies and inventive counterpoints.
Reedman Victor Goins shone particularly brightly on Wednesday. His clarinet solo on Marsalis' solemn "Bamboola Dance" was round and fluid and warm, while his tenor solo on a gorgeous reading of Horace Silver's "Senor Blues" was impossibly soulful, lagging just behind the chords in just the right way.
Other solo highlights included:
• Joe Temperley's lush baritone sax solo on "Tree of Freedom," in which you coulc close your eyes and almost believe Lester Young had returned as a baritone saxophonist.
• Ali Jackson's frantic solo to close the show, that consisted of nothing more than the drummer wailing on his high-hats, turning beats inside out and upside down without ever losing the beat or the swing.
• Walter Blandon Jr.'s scorching soprano saxophone solo, which singlehandedly redeemed an otherwise tepid run through Marsalis' "Big Fat Hen."
But for all the individual fireworks, the real highlights of Wednesday's performance came in the ensemble playing. The band clearly revels in leveraging the strength of its numbers, piling harmonies atop harmonies and making good use of dynamic shifts.
Although he only took a small handful of solos all night, every time he stepped forward, one could almost see sparks flying out of his horn.
And as the show ended and the band left the stage, Marsalis stayed behind with just Jackson, Nimmer and bassist Carlos Henriquez. Here, fronting a quartet, Marsalis transformed a simple 12-bar blues into a work of art.
It was a quiet reminder that even in a band consisting of virtuosos, Marsalis' talent is a thing of rare and profound beauty.