Posted on
Mon, Jun 25, 2012 : 8:38 a.m.
Pilobolus displays wit and mystery in Power Center performance
By Susan Isaacs Nisbett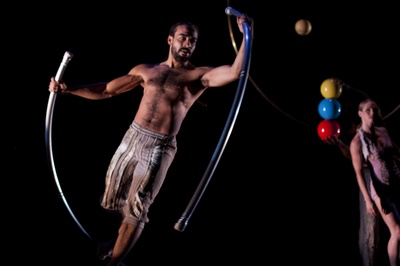 photo by Jeffrey Smith | AnnArbor.com
Forty years now, and the dance collective
Pilobolus
still has its finger on the beating pulse of the universe. Tapping concepts from nature, technology and sciences biological and physical, the company's choreographers and dancers develop fabulously evolving worlds to inhabit with wit, beauty, charm, humor and a touch of mystery.
All those qualities were much in evidence in the program the company presented Sunday evening to a sold-out house at Power Center. Featuring works spanning virtually all of the company's creative history, the show brought the dancers back to the Ann Arbor Summer Festival after an absence of eight years.
The audience was ready to applaud, and the dancers—well, let's just say the sextet who appeared (Shawn Fitzgerald Ahern, Eriko Jimbo, Jordan Kriston, Jun Kuribayashi, Manelich Minniefee and Nile Russell) outdid themselves in a taxing program. They were as graceful, athletic and persuasive in the last work on the bill, "Rushes," from 2007, as in the first, the very new 2012 "Azimuth."
See what I mean about concepts from science? I had to look up "azimuth" on my iPhone between seeing the dance and watching the next number, "All Is Not Lost" (2011). But I was not surprised to find the word was associated with astronomy, circles, arcs and celestial bodies: all that, and more, was there in the dancers' curvilinear movements, the bright balls they balanced or that hung in the black sky, the silvery hoops they manipulated, the shining shallow bows they turned into walking sticks, boats and tunnels or balanced on arms, shoulders and legs. This dance-of-the planets sextet—choreographed by Renee Jaworski, Michael Tracy and Michael Moschen (juggling does come in here, after all!) in collaboration with some of the dancers and other performers—kept throwing us lovely curves, and it was only occasionally that some of the ball passing seemed a little overdone, though never labored.
"Azimuth" is galactic in scope and size compared to "All Is Not Lost," a jeweler's loupe of a dance both temporally—it might last five minutes—and materially.
Created by OK Go, Pilobolus and Trish Sie in collaboration with Pilobolus dancers, "All Is Not Lost" is a hilarious, delightful and insightful romp for the same sextet of dancers, who are set out for us on a sort of raised glass microscope slide, with a camera below. We get to see them for real as they slither across the glass platform, tumble onto and off it, hook onto each other and let go. But we also get to see them simultaneously "on camera." On a big screen to one side, they appear in a Busby Berkeley-esque kaleidoscopic display that's pretty fantastic, in all senses of the word. For one thing, the geometries are awfully tricky: they form a sort of conga line on the "slide," and they appear on screen, shot from underneath, like a galumphing centipede; they waddle ungainly on the "slide," like penguins on land, and swim with the grace and ease of porpoises on screen. It's joyous and delicious to watch, and you're sorry it's over so fast.
There was more time to contemplate the slow beauties of "Duet," a 1992 dance by several of Pilobolus's early members (and artistic directors) Robby Barnett, Alison Chase and Michael Tracy in collaboration with Rebecca Jung and Jude Woodcock. Sunday, the spectacular Eriko Jimbo and Jordan Kriston were the two woman on stage, twined in slow revolving embraces in the first section; and twisting in and out of battle-mode versions of the same in the second. Reconciliation came as the medieval Norwegian songs to which the dance is set faded to silence.
Their dancing was powerful, and so the dancing remained as the numbers dwindled even further. One solo dancer, Kurabayashi, opened the second half of the program, which began with "Pseudopodia," a Pilobolus classic from way back when, aka 1973. The solo, made by founders Moses Pendelton and the late Jonathan Wolken, is a stunningly lit (Neil Peter Jampolis) tumbling, somersaulting exercise for one very supple, controlled and strong male dancer. It's powerful still today, and Kurabayashi didn't need any "false feet" to stand tall (or upside-down, or at impossible angles) in poses subject to ever-shifting iterations and fluid transformations.
Whimsy was big in the grand finale,"Rushes," a sextet that is one of Pilobolus's joint projects with artists from outside the company. In this case, Israeli choreographers Inbal Pinto and Avshalom Pollak worked with Barnett and the dancers.
There's more than a bit of slapstick in "Rushes"—you hear it in the music, and you see it in the dance's cartoon-like sequences and in business that make you think Little Tramp and Three Stooges. But there's also a great deal of poetry.
Why is the end of the dance so moving? The group is busy shifting a dozen chairs so that a couple, a man walking on them and carrying a woman from one to the next, always has a stepping stone in front so they can continue their journey. And then they shift the chairs away from, rather than toward the couple, and the pair is alone, atop the final chair. He reaches up to turn out the light bulb hanging above; the stage goes dark; the dance ends. And I have no idea what it's been about or why I'm so touched. It's pretty wonderful.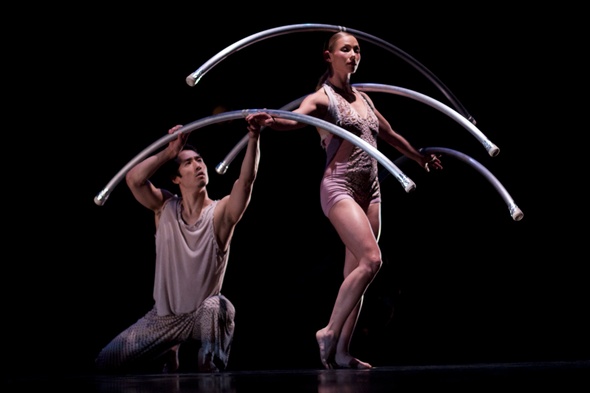 photo by Jeffrey Smith | AnnArbor.com