Posted on
Sun, Apr 3, 2011 : 7:28 a.m.
St. Petersburg Philharmonic shines at Hill Auditorium with Rachmaninoff, Rimsky-Korsakov
By Susan Isaacs Nisbett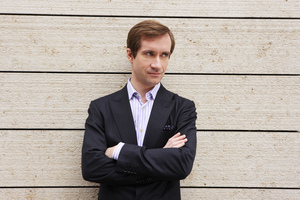 Concerts that keep on giving all the way to the end are a rarity. It's often downhill after the concerto, or at least anticlimactic.
But Saturday evening's Hill Auditorium concert by the St. Petersburg Philharmonic Orchestra, directed by Yuri Temirkanov, was good to the very last encore — which, for the record, was the zippy "Trepak" from Tchaikovsky's "Nutcracker," preceded by Elgar's lovely, singing "Salut d'Amour."
In fact, this last orchestral concert of the University Musical Society season was everything you could have hoped for from a Russian-Romantic double bill that included both the Rachmaninoff Piano Concerto No. 2, with the stellar soloist Nikolai Lugansky, and Rimsky-Korsakov's "Scheherazade." Throughout the evening the playing was warm and generous; it touched the heart; but it was never overblown.
The Rachmaninoff and Rimsky were remarkable in many other ways as well. The orchestra addressed the work's tidal pulls and deep currents with dark velvet sound; Lugansky's round tone was its perfect pianistic match; a slowish first-movement tempo only accentuated the rolling waves.
Throughout the concerto, Lugansky played with tremendous ease. He was equally at home in its virtuosic passages and in its soulful moments; delicacy suited him as well as hand-blurring bravura. Color abounded in his sound, and so did rhythmic acuity — the interplay with the orchestra in the final movement was dazzling.
As great as it was to watch Lugansky (and hear him), it was equally fun to watch the Maestro. Is there a conductor with more eloquent hands than Maestro Temirkanov? He says so much with every gesture, and even better — the orchestra responds in sound — curling a phrase to a gentle close, evaporating another into thin air.
In "Scheherazade," Temirkanov seemed happy breathing the exotic atmosphere of the "Arabian Nights" tales, a man in love with silks and scimitars and stories and night air scented with roses. The vocal quality of the playing — especially from concertmaster Lev Klychkov, principal cello Dmitry Khrychev and all the wind soloists — made the storytelling all the more affecting. The colors were glorious, as they should be, and the pacing was, well, as spellbinding as Scheherazade's stories had to be to keep the Sultan rooting for more tomorrow. A thousand and two nights of playing like this would not be too much.