Posted on
Sun, Jun 26, 2011 : 9:21 a.m.
Steve Martin, iconic comedian and musician, wows Ann Arbor Summer Festival crowd with his banjo
By Jennifer Eberbach
photo by Andrew Kuhn | for AnnArbor.com
Legendary funny man
Steve Martin
showed off his talent as a bluegrass banjo player and songwriter at a sold-out show put on by the
Ann Arbor Summer Festival
at the Power Center last night. On top of being hugely famous for his acting roles, stand-up comedy, and appearances on "Saturday Night Live," Martin is a Grammy Award-winning musician. He was accompanied by
The Steep Canyon Rangers
, who play on Martin's newly released second bluegrass album,
"Rare Bird Alert."
"I don't think of them as my band," Martin quipped at the show, "I think of myself as their celebrity."
Although Martin was certainly the star of the show, The Steep Canyon Rangers also got an enthusiastic response from the Power Center crowd. Lead singer and guitarist Woody Platt, mandolin player Mike Guggino, stand-up bass player Charles Humphrey III, banjo player Graham Sharp, and Nicky Sanders on the fiddle joined Martin for "An Evening of Bluegrass and Banjo."
Martin said at the show that he met The Steep Canyon Rangers "at a party," but joked that when he is in Los Angeles he fibs to make the story more exciting. "It's doesn't go down well in Hollywood, so there, I tell them we met in rehab," he joked—one of the funny man's many humorous moments in between songs.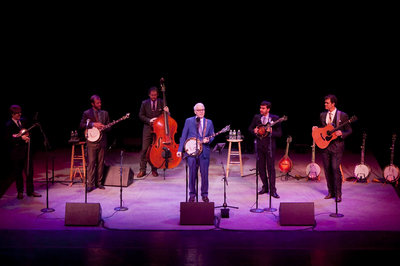 photo by Andrew Kuhn | For AnnArbor.com
The set at the Power Center included some purely instrumental songs—good old picking, strumming, plucking, and fiddling—like the show's opener, "Pitkin County Turnaround"; Martin's solo performance on banjo of "The Great Remember"; and
"The Crow,"
the title track to Martin's 2009 debut bluegrass album, which won a Grammy Award for Best Bluegrass Album.
Martin also has chops when it comes to writing lyrics, which he showed with some of his new songs such as "Go Away, Stop, Turn Around, Come Back"; "The Yellow Back Fly"; and "Daddy Played the Banjo," a song, he said, that makes for "bad poetry, but it's a great country song." And they performed "Me and Paul Revere," their new single told from the perspective of Revere's horse Brown Betty.
The new album, "Rare Bird Alert," also features a couple of comedic songs that had the Power Center crowd chuckling. While performing songs like "Jubilation," a unique take on a breakup song (it has an animated music video) and "Atheists Don't Have No Songs," a clever tune done a capella, Martin's comedic instincts shone through.
Midway through the show, Martin took a brief exit and let The Steep Canyon Rangers take over for a couple of songs—but not without a theatrical exit. Humphrey pulled a banana and a beer from a secret compartment cut into the back of his stand-up bass and handed them to Martin before he took his break. He walked back on stage for a moment to joke about being too drunk to play.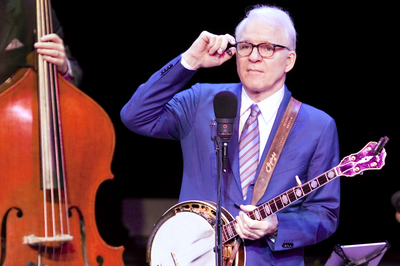 photo by Andrew Kuhn | For AnnArbor.com
The album title and song "Rare Bird Alert" was inspired by Martin's experiences filming an upcoming movie with Jack Black and Owen Wilson,
"The Big Year,"
a comedy about competitive bird watching. At the show, Martin explained about a hotline that bird watchers call when they sight an especially rare bird. "Then all the birders flock there," and then try to be "stealth" to not scare it away.
The encore was a long jam on classic bluegrass number "Orange Blossom Special." During the jam, fiddler Sanders teased the audience by throwing in a few bars of a bunch of recognizable songs, from the theme song to "The Flintstones" to "Flight of the Bumblebee."
Ann Arbor couple Rick and Kathi Cohen celebrated Rick's birthday at the show. Kathi thinks "Steve Martin is so talented," and although "I didn't know about the band that he plays with, I thought they were fabulous too," she said after the show. "We came for both the comedy and the music."
Rick "knew Steve Martin was a very capable musician, but I had no idea that he would give us the musical explosion that we just witnessed," he said. The birthday boy thinks Martin and the band have "top-notch talent," and he is impressed by "the fact that it's all original music that he wrote—he's a phenom."
Steve Martin and the Steep Canyon Rangers are scheduled to perform live on PBS on the Fourth of July, on the "A Capitol Fourth" special.