Posted on
Fri, Mar 16, 2012 : 6:45 a.m.
Ex Machina's 'The Andersen Project' makes theater magic
By Jenn McKee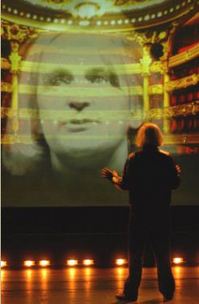 Dark and stormy nights are usually the stuff of potboilers, not fairy tales.
Yet Thursday's opening night performance of Ex Machina's "The Andersen Project"—originally created to commemorate the bicentennial of fairy tale scribe Hans Christian Andersen's birth—got underway 30 minutes late due to severe weather.
Fortunately, Robert Lapage's visually stunning one-man, two hour show, presented by the University Musical Society, was well worth the drive through heavy rain and lightning flashes.
Starring Yves Jacques, "Andersen" features a small handful of characters: Freddy, a Canadian pop songwriter who's commissioned to come to Paris to write a libretto for a children's opera based on Andersen's "The Dryad"; the director of the Paris Opera, who's desperately trying to keep his family together; Andersen himself; and a young, Moroccan graffiti artist.
Freddy, we learn, is newly single, after being in a relationship for 16 years, so he jumps at the libretto offer and enters into an artist residence exchange, not realizing that the transaction will result in him living in the Red Light District, directly above a peepshow. The opera director, meanwhile, falls into old habits after coming to the peepshow to meet with Freddy, thus putting his relationships with his wife and beloved daughter in jeopardy.
The men's stories, and especially their endings, capture the spirit of Andersen's fanciful (and sad) tales, and Andersen's personal proclivities and experiences play a role, too. The show's narratives are cleverly and creatively conveyed, given the limitations of a one-man show, and Jacques makes several moments quite moving. (Note, for example, the way he, as Freddy, caresses a statue in the Musee d'Orsay's garden one night. The ache and longing are palpable.)
Ultimately, however, the real stars are the show's technical design elements, which are a wonder, and Jacques skillful integration of them with his performance. While I wasn't a big fan of the loud, hard-edged hip-hop "opening credits" sequence - the music seemed a bit self-conscious, and also, do we really need opening credits in theater, too? - "Andersen"'s visuals are generally seductive, inventive, and fun. (I won't give anything away, but audience members are sure to enjoy watching Freddy taking a dog out for a walk.) And Jacques' impressively distinct depictions, combined with the show's lighting, sound, video projection, and puppetry elements, come together to create the kind of theater magic we long for but seldom, as adults, experience.
Admittedly, the show feels a little long at two hours, with no intermission. And it's strange to say, but this bountiful theatrical feast for the senses is perhaps at its most breathtaking in a relatively low-tech, simple moment - namely, when Jacques, playing the Opera director who's tucking in his daughter, tells Andersen's "The Shadow" as a bedtime story. With nothing more than a lamp on a dark stage, Jacques plays out the haunting, resonant narrative, and you find yourself on the edge of your seat, spellbound as much as, if not more than, the child would be.
Perhaps this intimate, pared down scene is arresting precisely because it stands in stark contrast to the rest of the show.
But whatever the reason, the scene reminds us why Andersen's stories continue to endure: they temporarily transport us to another world while also commenting on our own—much like "The Andersen Project" does, come to think of it.
Jenn McKee is the entertainment digital journalist for AnnArbor.com. Reach her at jennmckee@annarbor.com or 734-623-2546, and follow her on Twitter @jennmckee.