Posted on
Fri, Jul 8, 2011 : 2:42 a.m.
Tom Tom Crew delights Summer Festival crowd with jaw-dropping mix of music, acrobatics
By Roger LeLievre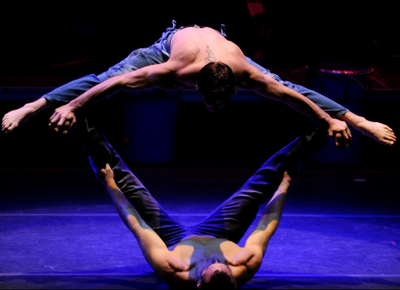 Melanie Maxwell | AnnArbor.com
Words alone can barely describe the eye-popping skills of the
Tom Tom Crew
, the hip-hop-fueled acrobatic troupe from Australia that offered the first show of a two-night stand Thursday at Power Center. This is a group that begs to be seen, not just read about.
Luckily there are a few tickets (about 75 as of last night) left for Friday evening's performance—in fact, stop right now and contact the Ann Arbor Summer Festival box office pronto.
Got your tickets? OK, now continue reading.
Although at times Thursday night's performance felt like a happy time warp back to the 1980s, the all-male troupe's jaw-dropping talent was definitely anchored in the here and now.
The Tom Tom Crew has been called a streetwise version of Cirque du Soleil, or maybe "Stomp" meets old-school-style sampled beats, beatboxing and scratches, all of which loosely fit. But it is also a high-energy, well-choreographed performance complete with light show and projected visuals that includes examples of graffiti art and images of the show's DJs at work.
The crew's team of young acrobats never failed to amaze. I'm sure I wasn't the only one holding his breath as two members of the troupe performed suspended from the rafters, hanging only by straps and counterbalanced by two other performers. There were no safety nets—if they let go, they would fall to the floor. Holding on by two hands was astonishing enough; when each dropped down to one hand audience members seemed to gasp in unison.
Another segment with an acrobat contorting his body, pretzel-like, into seemingly impossible positions was equally amazing to watch. By all rights, something like that should at least hurt! Flying triple somersaults off a device resembling a teeter-totter, as well as gravity- and balance-defying human pyramids, were also riveting to watch. The performers made such feats look effortless, belying the years of effort and practice that must have been needed to attain such a level of skill.
Meanwhile, human beatboxer Tom Thum—a one-man special-effects department—seemed able to replicate every sound known to man with his voice alone. His recreation of a jazz group and its instruments was nothing less than stunning, as was his one-man "battle" between two DJs with different musical styles. It was hard to believe no backing tracks or special effects were used, and Thum was especially adept at creating various voices to go along with the beats and other sounds.
Be it acrobatics, beatboxing or solo drumming on large plastic buckets and drums as well as a traditional kit, the audience roared its approval every chance it got. Even the failure of a musical bit with a 1981 Omnichord electronic harp that refused to turn on was forgiven by the audience as the show quickly segued back into the acrobatics.
As good as anything I've seen from the Olympics, the "don't try this at home" warning to the kids in the house (and there were quite a few) seemed to be sound advice indeed.
The Ann Arbor dates are the only two U.S. performances this year from the Tom Tom Crew. Although I haven't been able to catch everything the Summer Festival has to offer this year, I'm betting this one will be the show people continue talking about long after the festival ends.
The Tom Tom Crew will perform again at 8 p.m. Friday in Power Center. Call 734-764-2538 to find out about ticket availability.