Posted on
Fri, Feb 17, 2012 : 6:01 a.m.
University of Michigan's 'Noises Off' is fast-paced fun
By Jenn McKee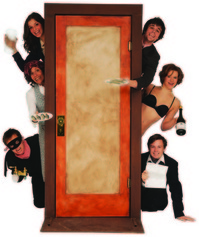 photo by Peter Smith Photography
What did you think of the play? Leave a comment at the end of this post.
Lloyd Dallas, the temperamental director in Michael Frayn's backstage farce, "Noises Off," struggles to rein in the eccentric cast of a touring sex comedy called "Nothing On," telling the actors at one point that what the show comes down to is "doors and sardines. Getting on, getting off."
Of course this, in a nutshell, is what "Noises" boils down to as well. And while the recipe might sound simple, it's anything but. So the fact that the University of Michigan theatre and drama department's production of "Noises" runs like a Swiss watch is a considerable credit to director John Neville-Andrews and his winning cast.
The two and a half hour production consists of three acts: the first gives the audience the chance to watch the final dress rehearsal of "Nothing On" and get acquainted with those involved with the show; the second places the audience backstage during a "Nothing On" performance one month later that - due to the increasingly complicated relationships between several cast and crew members - nearly unravels; and the third let's us see precisely how much the quality of the production has deteriorated by tour's end, weeks later.
The second act is where the actors get a serious workout, since there's precious little dialogue and lots of fast-paced, meticulously choreographed action. Indeed, the act is the crucial, make-it-or-break-it stretch of any "Noises" production because of its sustained, almost silent film-like dependence on non-verbal comedy. The act has to keep the audience engaged, and to do so, it must keep moving at a breakneck pace.
Fortunately, thanks to outstanding ensemble work, U-M's cast has the energy and skills to do just that, making the human shell game that is "Noises" look nearly effortless. Reed Campbell is terrific as annoyed, frustrated Lloyd, who sees himself as the only sane person in the room at all times. Naz Edwards, one of the area's finest professional actresses, doesn't disappoint as Dotty, a middle-aged actress who plays the, well, dotty housekeeper in "Nothing On." Philip Maxwell manages to sustain the comedy (no small thing) of leading man Garry's verbal tic, whereby he leaves the meat of every sentence unspoken; and Sophie Hindley is an absolute hoot as Brooke, the sexpot young lead actress who spends much of the play in her underwear and doggedly sticks to the script, no matter what's happening, or what's being said, around her.
Neville-Andrews, meanwhile, masterfully stages the play's action so that even in the show's most frenetic moments, when a lot of different things are happening simultaneously on stage, our eyes are drawn right where they need to be. Conversely, Neville-Andrews also makes sure to include moments that act as an occasional counterweight the chaos. For instance, there's a wonderfully slow build-up on a joke in the first act, when the play on stage just comes to a stop, and you know Lloyd is silently building up to a volcanic explosion as he slowly makes his way to the stage.
Gary Decker's two storey set - which is a character unto itself in a play like "Noises" - provides the perfect playground for the actors, while Katelyn Rouse's costumes, Andrew Lott's lighting (particularly the front-of-the-house, back-of-the-house dual perspective in act two), and Colin Fulton's sound help pull the whole package together. (Plus, big bonus points to all involved in making the program-within-a-program for "Nothing On," which is enormously fun to read.)
"Noises"' only weaknesses involve the inherently difficult task of making an undergraduate student (in this case, Avery DiUbaldo) look like an elderly man; and Neville-Andrews' very occasional tendency to overplay a joke (watch, for instance, how long the "one door won't close while another won't open" bit goes on in the first act).
Overall, though, Neville-Andrews and his actors manage to keep the production's pace lightning-fast - which is exactly what's needed to pull off this hilarious but notoriously challenging comedy.
"Noises Off" continues through Feb. 19. Tickets: 734-764-2538 or tickets.music.umich.edu.
Jenn McKee is the entertainment digital journalist for AnnArbor.com. Reach her at jennmckee@annarbor.com or 734-623-2546, and follow her on Twitter @jennmckee.