Posted on
Fri, Nov 9, 2012 : 9:40 a.m.
University of Michigan Opera Theatre shines with classic 'Don Giovanni'
By Laurel Firant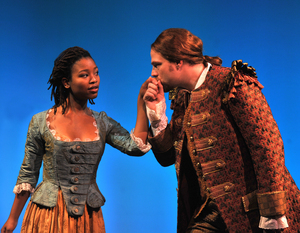 photo by Peter Smith Photography
The University Opera Theatre cast a spell with Wolfgang Amadeus Mozart's "Don Giovanni" Thursday night at the Power Center.
The opera in two acts premiered in 1787, and the enduring power of its music is a testament to Mozart's genius. Director Robert Swedberg's production is set in New Orleans in the 1780s—a good fit for the societal and supernatural dimensions of the story. It was enhanced by Gary Decker's excellent scenic designs, which are some of the best the theater has had in years.
Conductor Christopher James Lees led the University Symphony Orchestra through an elegant, well-paced performance. And Swedberg's English translations of Lorenzo da Ponte's libretto projected over the stage were contemporary and concise.
Jonathan Lasch shone in the title role, his strong baritone voice and powerful presence carrying the story of the notorious womanizer. Isaac Droscha as Giovanni's servant, Leporello, balanced a lot of comic action with his rich bass voice. Soprano Leann Schuering sailed through the role of the peasant girl Zerlina, delivering a refined performance with ease. (The opera is double cast.)
Jonas Hacker lent his brilliant tenor voice to the role of Don Ottavio. And soprano Catherine O'Rourke as Donna Anna provided some remarkable moments with her subtle grace and her voice's gorgeous upper range. Soprano Antonina Chekhovskaya was solid in her performance as Donna Elvira, often commanding the stage when she sang. And Jonathan Schechner's soft-edged bass was a good fit with the role of Masetto. Nicholas Davis put in an authoritative performance as the Commendatore, his bass voice and stage presence giving gravitas to the vengeful spirit.
The burnished jewel tones of the costumes were stunning against the sets, and were well balanced in color and detail by costume designer Jeff Bauer.
One of the most visually captivating moments was Lauren Jacob's silent role as the Mamba Priestess, as she conjured up a voodoo doll while bedecked in beads and jewels. The scene was set in a New Orleans cemetery and was especially evocatively lit by lighting director Charles Malott.
"Don Giovanni" continues through Sunday. For more information, see the preview article. For tickets, go to tickets.music.umich.edu