Posted on
Sat, Apr 7, 2012 : 4:47 a.m.
Satisfying 'White Buffalo' charges into the Purple Rose
By Jenn McKee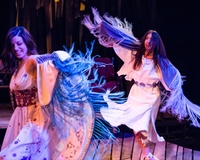 Photo by Sean Carter Photography
You know a playwright's written a good monologue when you have the urge to yell "Thank you!" when it's over.
I had that sensation during the second act of Don Zolidis' "White Buffalo," now having its world premiere at the Purple Rose Theatre.
The monologue, delivered by a character named John Two Rivers (Michael Brian Ogden), argues against the reductive, fetishistic glamorization of Native Americans and their beliefs by non-Native Americans; and one of the reasons I was so grateful for speech's message was that I couldn't help but feel that the play, and the production, came dangerously close at times to committing this self-same sin—so the passage had the effect of a short-term antidote.
Inspired by the 1994 birth of a white buffalo calf on a farm in Janesville, Wisconsin—Zolidis' hometown—the play focuses on a mother, Carol (Michelle Mountain), and her 18-year-old daughter, Abby (Stacie Hadgikosti), who are mildly surprised by the birth of a white buffalo on their own small, mortgaged-to-the-hilt farm. When the local paper writes a small story about the uniquely colored buffalo, John Two Rivers comes calling and explains that according to a Native American myth, the birth of a white buffalo calf signals a coming time of peace and the unity among mankind.
As word of the white buffalo spreads, spiritual pilgrims (including the Dalai Lama) journey to see the calf; but they're not the only ones who come. Abby's estranged father, Mike (Alex Leydenfrost), shows up after 8 years of no communication with her or Carol; and wealthy rancher Anderson Wilkes (David Daoust) arrives and offers Carol 2 million dollars for the calf, putting Carol and Abby at odds.
While spinning this tale, Zolidis can occasionally be heavy-handed: when Mike tries to talk to Abby, she stalks off to lead a visitors' tour, tearfully saying of the white buffalo woman in the myth, "She promised she'd return, no matter how long she was away," as Mike looks on; Abby's romance with John seems contrived—more a narrative convenience than a natural affinity; and somehow I knew, before it was even mentioned, that the white buffalo would be named Hope.
Yet as things heat up in the second act, and everyone's cards are laid on the table, the play grows more engaging. Zolidis wisely makes Wilkes someone who appears to have good intentions regarding the white buffalo and the Sioux Nation, thus making his purchase offer all the more enticing to Carol; Carol's clear-eyed pragmatism does battle with Abby's belief in the myth, and you inevitably sympathize with both perspectives; and John's monologue, as well as Abby's dressing down of her father, put some real meat on the bones of the play.
The production's ensemble, as a unit, is impressive—I was particularly drawn into Mountain and Leydenfrost's fraught interactions—and one of the production's surprise treats involves watching, and listening to, Rainbow Dickerson (First Woman), who's featured in the powwow scene, among others.
Director Guy Sanville guides the production with care—though it threatens to veer into the realm of overwrought melodrama at times—and Daniel C. Walker's lighting design plays a crucial role in realizing Sanville's vision, given the disorienting opening scenes, and the way the past haunts and informs the characters' present.
Vincent Mountain's spare set design most prominently features a fence backdrop, where the white buffalo's visitors leave gifts and offerings; Christianne Myers' costume design informs your notion of the characters, and how they want to see themselves, before they say a word; and Gregory Butka's drumming made the production a more satisfying, visceral experience.
Of course, with this kind of story, one has to be concerned about the final resolution being inevitable and predictable; as such, the "how" of arriving at that ending becomes the primary point of suspense. And ultimately, "White Buffalo" isn't a perfect play—Abby's sudden forgiveness of one character at the end, for instance, feels too quick and tidy—but the combination of its best, most arresting moments make it worth a visit.
Jenn McKee is the entertainment digital journalist for AnnArbor.com. Reach her at jennmckee@annarbor.com or 734-623-2546, and follow her on Twitter @jennmckee.