Posted on
Sat, Jul 27, 2013 : 5:15 a.m.
River Gallery showcasing intriguing paintings of Jessica Joy London
By John Carlos Cantu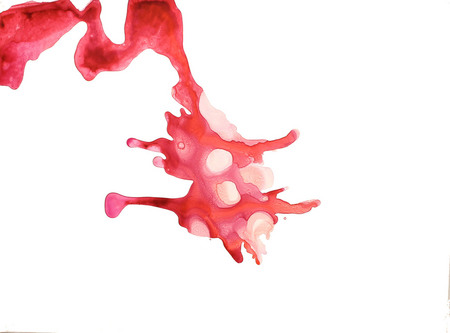 Science meets surreal abstraction in Jessica Joy London's "New Work" at Chelsea's
River Gallery
.
The fluid abstraction of London's artworks in this handsome exhibit find this local artist (a former University of Michigan graduate student in the fine arts) modulating the flow of her inks — adhered at times with other elements — to create wisps of flowing mixed-media imagery that's as haunting as it is striking.
Indeed, one of the fascinating aspects of this exhibit is its novel approach to such abstraction. For it's always a delightful surprise to find a talent imaginatively manipulating a style of art that arguably had its heyday at mid-20th century.
The give and take of 1940s-50s abstract expressionism gave way to 1960s post-painterly abstraction (the so-called second generation of the New York School), which found these artists wrestling with the lessons of the first generation, yet also reveling in a painterly facture that culminated in colorfields of varying sorts.
Add to this the work of slightly earlier European artists like Pablo Picasso, Yves Tanguy, Roberto Matta, and Andre Masson — all of whose art crafted imagery with one foot in abstraction and another in surreal imagination. These streams of influence are essentially what we find in London's "Natural Phenomena/Synthetic Wonder."
"I imagine if it rained color," writes London in her artist's statement, "the landscape would look like my paintings. Shades of blue would flow from leaf to fallen leaf picking them up and repositioning them on bright green blades of grass and grey concrete in harmonious compositions. Passersby would step in puddles of yellow tracking footsteps across the landscape changing blues into greens and reds into oranges. Pinks and oranges would flow between spaces of rocks too heavy to be carried away, staining them and evaporating back into the clouds."
The venue's gallery statement observes she's "concentrated on studying painting but chose to also spend time exploring the concepts and techniques central to the science of biomedical research."
London then adds, "The systematic approach taken in the lab to understand the normally invisible variables at play presented me with the opportunity to appropriate a systematic approach to my studio practice."
And as the statement continues, "(London) closely observes the ordinary in the everyday for inspiration and often integrates simple materials into her art. She incorporates water from her fish tank, garlic and onion skins, grapefruit, leaves and grasses. She combines these with colored inks spilled in a systematic and methodical way onto the synthetic paper. The colors and materials play out in organic and natural ways, looking both natural and mysteriously like biological, cosmic imaginings. Her art gives the illusion of viewing the world through a huge microscope."
Indeed, there are 37 ink on Yupo paper artworks in this display, and they are all akin to looking at art through a microscope frozen in time. Their undulating forms secure their position; their fluidity gives the impression of being sealed in place.
This consistent strategy gives the impression of a grand organizer and it's at this point that London's work so expertly pivots on that balance between first and second generation abstraction and biomorphic art.
The first generation of abstract expressionists largely favored existential gesture, while the second generation of post-painterly abstractionists was far more interested in the chromatic application of such gesture. London adds her own surreal flights of the cosmos — and she masterfully unites these three fantastic (in every sense of the word) aesthetic impulses.
"In my everyday life," says London, "I'm drawn into a realistic version of this fantasy; water stains on metal water fountains, the markings on stairs from years of people walking on them, painted concrete ground that peel up giving glimpses of the past, tea and coffee stains on countertops. The artifacts of these spaces and processes engage me in a sense of wonder and I facilitate similar processes in my creative work."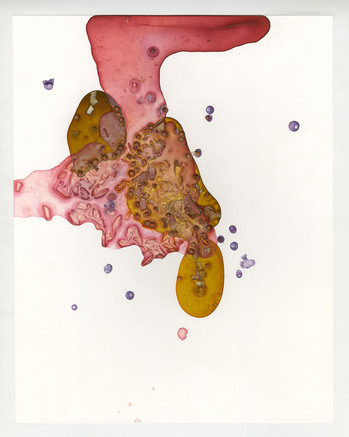 Take for example, London's smallish "Artifacts of Adjacent Possibilities—Yellow and Pink Series, 9 of 10." The application of her inks in this work is tightly rendered, and the onion skin that accretes on the working surface (coupled with metal shavings) gives the work a subtle multi-dimensionality that pulls the viewer in and out of its complex depth. Likewise, the thickened application of the inks creates a visual complexity whose varying colors play off each other in tightly rendered accretions.
In contrast (and easily the enigmatic masterworks of the exhibit) are London's unframed oversized paintings—if only because of the work's heroic scale. London's "Phenomena — Pink Symmetry" takes the notion of peering into an oversized microscope just about as far as it seemingly can go. This striking painting balances the blank background against the red ink foreground. For this mottled application — flowing unevenly from the painting's upper-right-hand corner — gives as much of an impression of the fortuitous as it does expert modulation.
This seems to suit London just fine. It's no easy task to craft an art that can be read solely through its formal application or appreciated as a microbe with a life all its own. Either way, London's appropriation of inspired gesture, colorfield, and biomorphism indicates there's plenty of life in the worlds of art from the intergalactic to the microscopic.
"Jessica Joy London: Natural Phenomena/Synthetic Wonder" will continue through Aug. 17 at the River Gallery, 120 S. Main St., Chelsea. Gallery hours are 11 a.m.-5 p.m. Tuesday-Wednesday, 11 a.m.-8 p.m. Thursday; 11 a.m.-5 p.m. Friday; and 11 a.m.-6 p.m. Saturday. For information, call 734-433-0826.